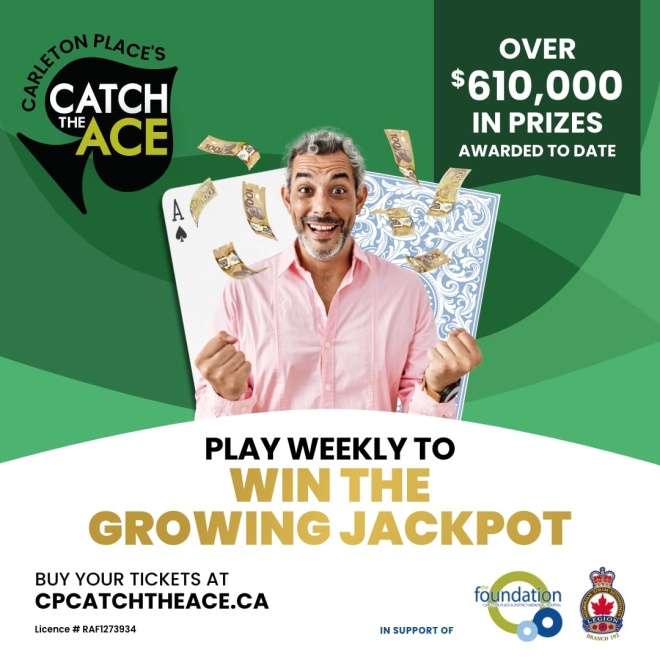 CARLETON PLACE, ON, May 30, 2023 — Play your cards right, and you could win this week's prize or catch the Ace of Spades to take home the growing progressive jackpot! The weekly prize is estimated at $5,000; the jackpot is expected to be over $158,000!


Support Healthcare & Community Initiatives. Win Cash!
Every time you play Carleton Place's Catch The Ace, you support the Carleton Place & District Memorial Hospital Foundation and the Carleton Place Royal Canadian Legion Branch 192 in their efforts to build a healthier community.
$10 for 3 tickets
$20 for 10 tickets
$50 for 50 tickets
$75 for 100 tickets



Hurry! The Next Ticket Deadline Is This Thursday At 5 p.m.

Buy your tickets by 5 pm on Thursday, June 1 to participate in the next draw. The weekly prize – or even the Ace of Spades Jackpot– could be yours!

Every Ticket Counts.

Each ticket sold helps the Carleton Place & District Memorial Hospital provide the best possible local healthcare with the most up-to-date medical equipment available, and helps the Carleton Place Legion continue its essential community programming.  Your support goes a long way for the families of Carleton Place and the surrounding area!
Good Luck!


Carleton Place & District Memorial Hospital Foundation
211 Lake Avenue East
Carleton Place, ON K7C 1J4
Lottery License #1273934