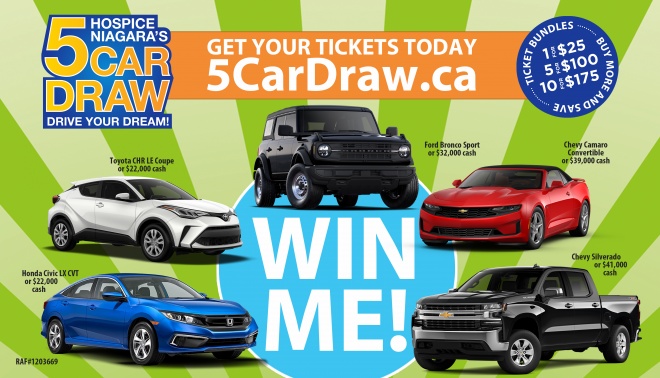 St. Catharines, ON, August 2, 2021 — Hurry, don't miss today's 6:30 pm deadline to order your tickets!
Minutes after the deadline, Hospice Niagara will draw for FIVE BRAND NEW CARS and FIVE $1,000 BONUS PRIZES! Did you know that you can win multiple times? After each draw your tickets become eligible for the next draw, until all the CASH and CARS have been WON.
Compassion and dignity are at the heart of hospice care.
Purchasing tickets means Hospice Niagara can help people live well, free of charge, from the time of diagnosis with a terminal illness, at end of life and while grieving a death.
Now is the time make to a difference.
Hospice Niagara's 5 Car Draw offers more than $205,000 in prizes, including:
2021 Honda Civic LX CVT (or take $22,000 cash)
2021 Toyota CHR LE Coupe (or take $22,000 cash)
2021 Ford Bronco Sport (or take $32,000 cash)
2021 Chevy Convertible Camaro (or take $39,000 cash)
2021 Chevy Silverado (or take $41,000 cash)
Five $1,000 Bonus Prizes
Last year, this lottery sold out SO DON'T MISS OUT.
Tickets are only $25 each and all proceeds stay in Niagara. For an even better deal, bundles of 5 tickets are $100, or get 10 for only $175.
Get your tickets at 5 Car Draw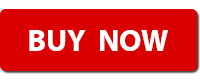 About Hospice Niagara
Hospice Niagara focuses on improving the quality of life for people living with life-limiting illnesses, dying, death, loss and grief. They believe that no one should make this journey alone. Through a variety of programs and services, Hospice Niagara is able to provide compassionate comfort and support for families. Their programs and services are offered at no cost to clients, and the 5 Car Draw lottery is their biggest fundraising event each year.
RAF #1203669