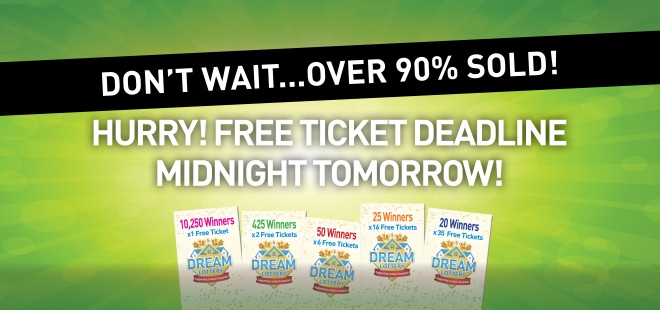 LONDON, ON, April 21, 2021 — Dream Lottery is selling at a Record Pace! With the Free Ticket Deadline MIDNIGHT TOMORROW and Dream already OVER 90% SOLD you don't want to miss out!
Order before Midnight Tomorrow and your in for ALL Draws, giving you more chances to WIN! Starting with 12,500 FREE TICKETS … not just Single Tickets, but Multi-Ticket Packages too! Imagine winning 1, 2, 6, 16 or even 35 TICKETS?
Don't forget, the Making a Difference Calendar! Featuring a year's worth of your needs with 3 Months of Winning … you don't want to miss out!
PLUS, there are even more ways to WIN! Get in on London's Biggest 50/50 Jackpot …last winner took home over $633,000!
Don't wait because Dream Lottery will SELL OUT IN RECORD TIME!
Order tickets NOW online for Dream Lottery
or by phone at 1-866-802-4117.

Every Ticket Changes A Life!
DLRAF1203812 | 50/50RAF1203811 | CLRAF1203813