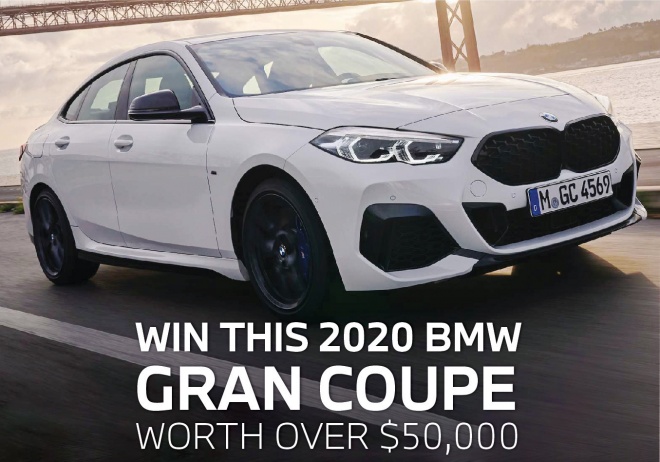 VANCOUVER, BC, January 8, 2021 — Picture yourself behind the wheel while driving this luxurious BMW 228i Gran Coupe! Brian Jessel BMW is proud to donate a well-appointed brand-new 2020 228i Gran Coupe. Tickets are limited for the first-ever Chabad Win A BMW lottery today – and you could be driving away in style in less than three weeks! (January 31, 2021)
"We are so happy to support Chabad BC and the outstanding work they do throughout the province" " said Jim Murray, Managing Partner at Brian Jessel BMW.

The first-ever Win A BMW lottery proceeds will go to support educational programs, housing, and community services provided across BC by Chabad British Columbia. Time is running out! Draw will take place live on Sunday January 31st at 6pm from Brian Jessel BMW at 2311 Boundary Road, Vancouver.
Win this 2020 BMW 228i Gran Coupe and drive it home!
But that is not all! Drive off with the comfort of knowing that your BMW's 228i Gran Coupe's first year of car insurance is on us!.
Tickets start at $50 for 1… or save with these great discounted packages: 3-Ticket Pack for $135, or 5 tickets for $180! (The best deal!) Don't delay as the live drawing is weeks away on January 31st, 2021. Tickets are limited — so order now via our secure website.
BONUS: Your First Year of Vehicle Insurance is included!!!
Don't delay — enter the Win A BMW lottery today and you will be driving off in this 2020 228i Gran Coupe with all taxes and insurance included!!! Draw held live on Sunday January 31, 2020.