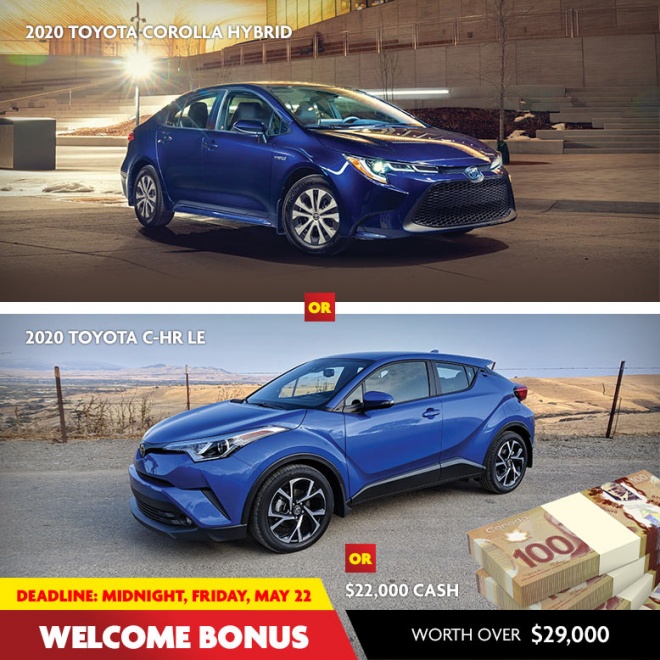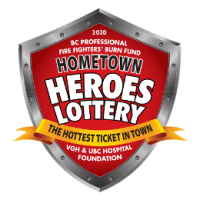 VANCOUVER, BC, Sunday, May 17, 2020 – Get your Hometown Heroes Lottery tickets today and you'll be automatically entered into the 1st Bonus draw of the summer!
Win the Welcome Bonus and choose 1 of 2 Toyotas, or take the cash: Hit the road in a 2020 Toyota Corolla Hybrid or a 2020 Toyota C-HR or pad your bank account with $22,000. And when you order early, you'll be automatically entered into all this year's biggest draws, too – including the Heroes Bonus and Summer Bonus draws, the Early Bird draws (worth over $150,000), and the Grand Prize Draw. Become a multi-millionaire with $2,100,000 tax-free cash, or choose 1 of these 8 incredible home packages:
A luxurious, modern White Rock home by Marquis Custom Homes, filled with high-end appliances and furniture from LaZBoy Vancouver, with terrific features and rooms like a huge walk-in closet and master bedroom ensuite bathroom and balcony, large backyard with sitting area, patio, and garden, a sauna, bar, gym, and home theatre in the basement, and more! This year's biggest Grand Prize package is worth over $2.7 million.
Or choose a hilltop home on Eagle Mountain in Abbotsford, by Palermo Homes – 6 bedrooms, 5 bathrooms, and 4,977 square feet. This home comes with furniture and accessories, a 2020 BMW X5 and 2020 Chevrolet Bolt, plus $500,000 CASH!
Live in the city in a sub-penthouse high above Main Street, Science World, Olympic Village and False Creek, with a $2.3 million condo package at CENTRAL in Vancouver.
Head for the Okanagan in gorgeous, brand-new home at Kestrel Ridge in Kelowna – with well-appointed finishes, breathtaking lake and mountain views. And it comes with a 2020 Tesla Model S and $1.1 MILLION CASH.
How about Penticton? Steps from the Marina and Art Gallery, Farmers Market, and spectacular Okanagan Beach, this 2,351 square-foot home is designed to fit any lifestyle!
If you're looking for ideal Island living, there are two terrific options – starting with a 2,333 square-foot home at Crown Isle golf resort community in Courtenay, a beautiful brand-new home that comes with furniture, truck and car, 5th Wheel trailer, Duckworth boat, 5-year golf membership, and $600,000 cash…
… or a jaw-dropping 3-bedroom home at SookePoint, with a hot and everyday Pacific Ocean views, a 2020 Audi Q7 and $300,000 cash in a $2.3 million Grand Prize!
If you'd rather have the best of two worlds, there's also a two-home Grand Prize option: experience the beachy vibes of White Rock with a mountain-view condo at Semiah, and a country home in a gated community at Creekside Mills in Cultus Lake! It's a $2.3 million Grand Prize, and you don't have to choose between two homes… you can have them both together!
Over 3,200 prizes to win
worth over $3.5 million
Order now! 3 for $75
It's the Hottest Ticket in Town
50/50 PLUS
Last year's jackpot:
$1,717,095
Daily Cash PLUS
105 Days of Winning,
$300,000 to Win!
---

It's National Nursing Week! Hometown Heroes Lottery wants to recognize all our health care heroes in British Columbia, in Canada, and around the world who are working so hard to keep us and our communities safe. To the nurses, doctors, front line workers, first responders and dedicated health care teams, we say, Thank You.
---

Get your tickets online at heroeslottery.com
by Phone at 604-648-4376
or 1-866-597-4376
or in-person at London Drugs.
*Due to COVID-19, all prize homes are closed to the public and there are currently no in-person sales at Vancouver General Hospital.
View the homes, photo galleries, and virtual tours on heroeslottery.com