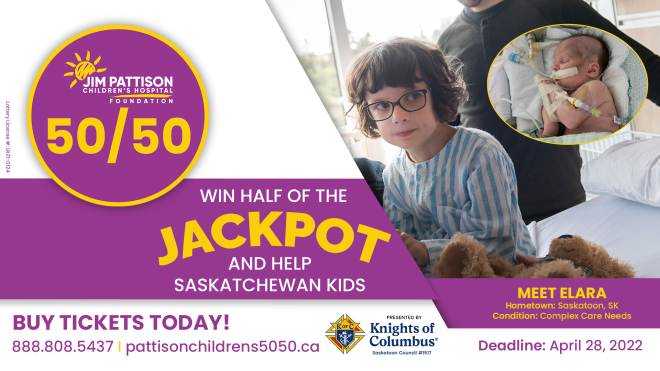 SASKATOON, SK, March 22, 2022 — Tickets are on sale TODAY for Jim Pattison Children's Hospital Foundation 50/50 to support Saskatchewan children and families.
With a guaranteed jackpot of $10,000, you can win BIG while helping our province's sick and injured children. This online raffle is presented by Knights of Columbus Saskatoon Council #1517.
Last year's inaugural campaign was a great success raising over $240,000 with the jackpot reaching over $21,100 in the first 24 hours. Buy your 50/50 tickets today and win half of the jackpot!
TICKETS: 1 for $20 | 5 for $50 | 20 for $100 | 100 for $250

Purchase your 50/50 tickets and help kids like Elara!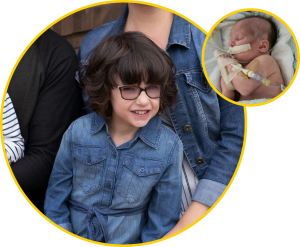 Elara lives with complex care needs, after being born with a rare congenital heart defect. Her chronic health conditions have led to numerous stays at Jim Pattison Children's Hospital and as a result, Elara was diagnosed with post-traumatic stress disorder (PTSD).
"PTSD is a challenge in kids because, to be frank, Elara only knows this life that she has," said Elara's mom, Tara. "Elara doesn't talk about the things that she has been through, she endures them. Despite all that, she loves going to the hospital, and we have always taken solace in that because it's a testament to the care she gets there. But, we've learned that it is also related to PTSD, because she feels the safest at the hospital. It's where she gets rescued." Learn more about Elara's story.

The deadline to buy tickets is April 28, 2022 at 4:00 p.m. The draw will be held on April 29, 2022 at 4:00 p.m. at Jim Pattison Children's Hospital Foundation 1 – 345 Third Avenue S, Saskatoon, SK. The winner will be notified by email or phone with instructions on claiming the prize.
See rules of play details here.
TICKETS: 1 for $20 | 5 for $50 | 20 for $100 | 100 for $250
1,000,000 tickets available to a maximum jackpot of $1,250,000.
Lottery License #: LR21-0124