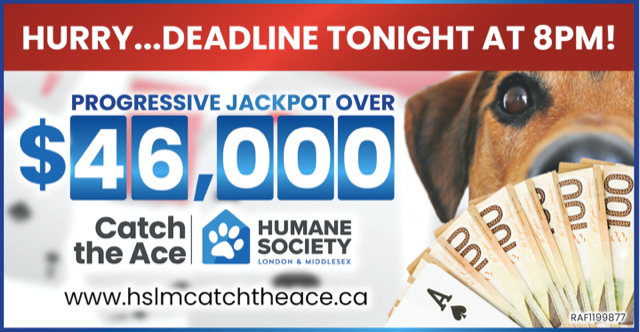 LONDON, ON, April 8, 2021 — Can you believe it's Week 11 and the Ace of Spades is still hiding? This means HSLM's Catch the Ace Progressive Jackpot is now OVER $46,000 & Growing and you still have a chance to WIN BIG! Order now for your chance to WIN not only the Weekly Cash Prize but if you find the Ace of Spades, you also WIN that Progressive Jackpot!
Your chance to WIN while supporting animals in need is only a ticket away!
HURRY DEADLINE is Fast Approaching – 8:00 p.m. TONIGHT!

Did you know?
About 2,500 animals are provided shelter and care (including medical care) by Humane Society London & Middlesex each year
HSLM never euthanizes for space
They provide education to teach individuals of all ages the importance of humane treatment to animals and the responsibility of pet ownership
Every ticket purchased will directly support Humane Society where net proceeds will be used for the care and shelter of surrendered pets in the City of London, and Counties of Elgin, Middlesex, and Oxford.
Lottery Licence RAF1199877