Calgary, Alberta June 10, 2021 — Do you dream of hitting the open road? We thought so! That's why the volunteers at the Stampede selected a brand-new 2021 Thor Tellaro 20AT Class B Motor Coach with Skybunk for this year's Early Bird Prize. It's valued at $154,350 and it could be yours if you purchase your Stampede Lotteries tickets before midnight on June 11th.

CALL TOLL-FREE: 1-888-568-8616
HOW ABOUT A MILLION DOLLAR 50/50?
Not the camping type? No problem! How does a million-dollar prize sound? The Stampede Million 50/50 is back and bigger and better than ever. It could be worth up to a million dollars for the winner. The current jackpot is over $1,000,000! Don't miss out, ticket start at just $10.

THERE IS SOMETHING FOR EVERYONE!
WIN THE GREATEST ROTARY DREAM HOME PRIZE. It is the Stampede's most valuable prize ever offered and comes complete with furnishings and extras, $100,000 bonus cash, and is valued at over $1.1 million!
8 GREAT GRAND PRIZES. The 2021 Stampede Lotteries will offer the most winners ever! There are 8 new Kinsmen Million grand prizes, including $100,000 in cash, GMC trucks, Fifth Wheel package, pontoon boat, motorcycle and more.
64 ADDITIONAL PRIZE PACKAGES. The winning continues! Stampede has also added 64 exciting new prize packages to appeal to everyone.
More winners makes this year's lottery the GREATEST EVER. Get your ticket online or by phone at 1-888-568-8616.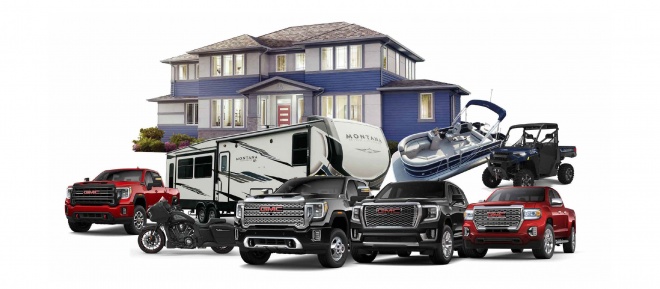 Visit the Calgary Stampede Lotteries for complete lottery details and rules. License numbers (tickets printed) – 2021 Rotary Dream Home License #570515/9,485,900, 2021 Kinsmen Million License #570516/9,210,900, Stampede Millions 5050 License # 570517/1,230,331.