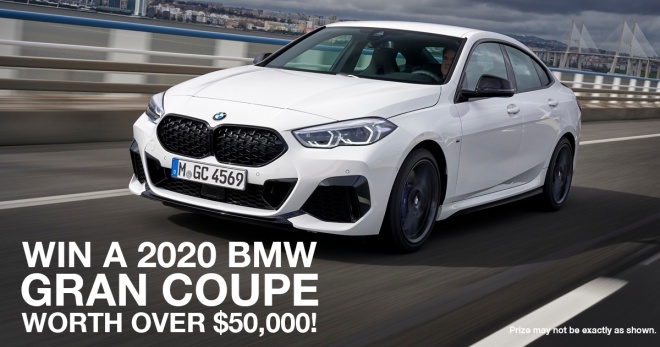 THE COUNTDOWN IS ON! DRAW DATE SUNDAY JANUARY 31, 2021. DON'T DELAY — PURCHASE YOUR WIN A BMW TICKETS TODAY!
VANCOUVER, BC, January 21, 2021 — Sleek. Stylish. And worth over $50,000! That's the luxurious BMW 228i Gran Coupe. This Brian Jessel BMW could be yours but hurry… only 10 days remaining!
Brian Jessel BMW has generously donated this BMW 228i Gran Coupe. You could be driving away in this Ultimate Driving Machine with your first year of insurance included courtesy of All West Insurance "We are so happy to support Chabad BC and the outstanding work they do throughout the province" said Jim Murray, Managing Partner at Brian Jessel BMW.
You only have just over one week left to get your tickets! So don't delay — act quickly and enter for your chance to win, and help support a wonderful cause. Draw date Sunday January 31, 2021 at 6 pm.
The first-ever Win A BMW lottery proceeds will go to support educational programs, housing, and community services provided across BC by Chabad British Columbia.
Ticket prices are $50 each (SOLD OUT), or a 3-ticket pack for $135, or 5 tickets for $180! (The best deal!)

Final deadline 4 pm, Sunday, January 31, 2021. The draw takes place at 6 pm the same day,