WINNIPEG, Manitoba, October 30, 2017 — The 2017 Easter Seals™ Home Sweet Home Lottery is huge! Everyone that buys a ticket is GUARANTEED TO WIN!
The Final Deadline is just a mere few days away– October 31, 2017 at midnight to be exact! Hurry and grab your ticket to make sure you have a chance at winning the Cash Draws, which will award 10 winners with $1,000 each.
The Great Escape Getaway Draw could send you to Las Vegas, Nevada for three nights. Valued at $1,500, this prize includes your airfare from Winnipeg to Las Vegas and hotel accommodations, OR take $1,000 cash. Feeling lucky?
The All-Star draw will take some of those laundry pains away with a brand new stainless steel appliance package including washer and dryer.
The VIP Draw is a Home Theatre Package, which includes a Samsung 58″ 1080p Smart LED HDTV & Samsung 500W 5.1 Surround Sound Home Theatre System.
Want to feel like a MVP? You can with the MVP Draw and a custom home makeover valued at $25,000. OR take $20,000 cash.
The 50/50 winner takes half of the jackpot, which can reach a whopping $500,000!!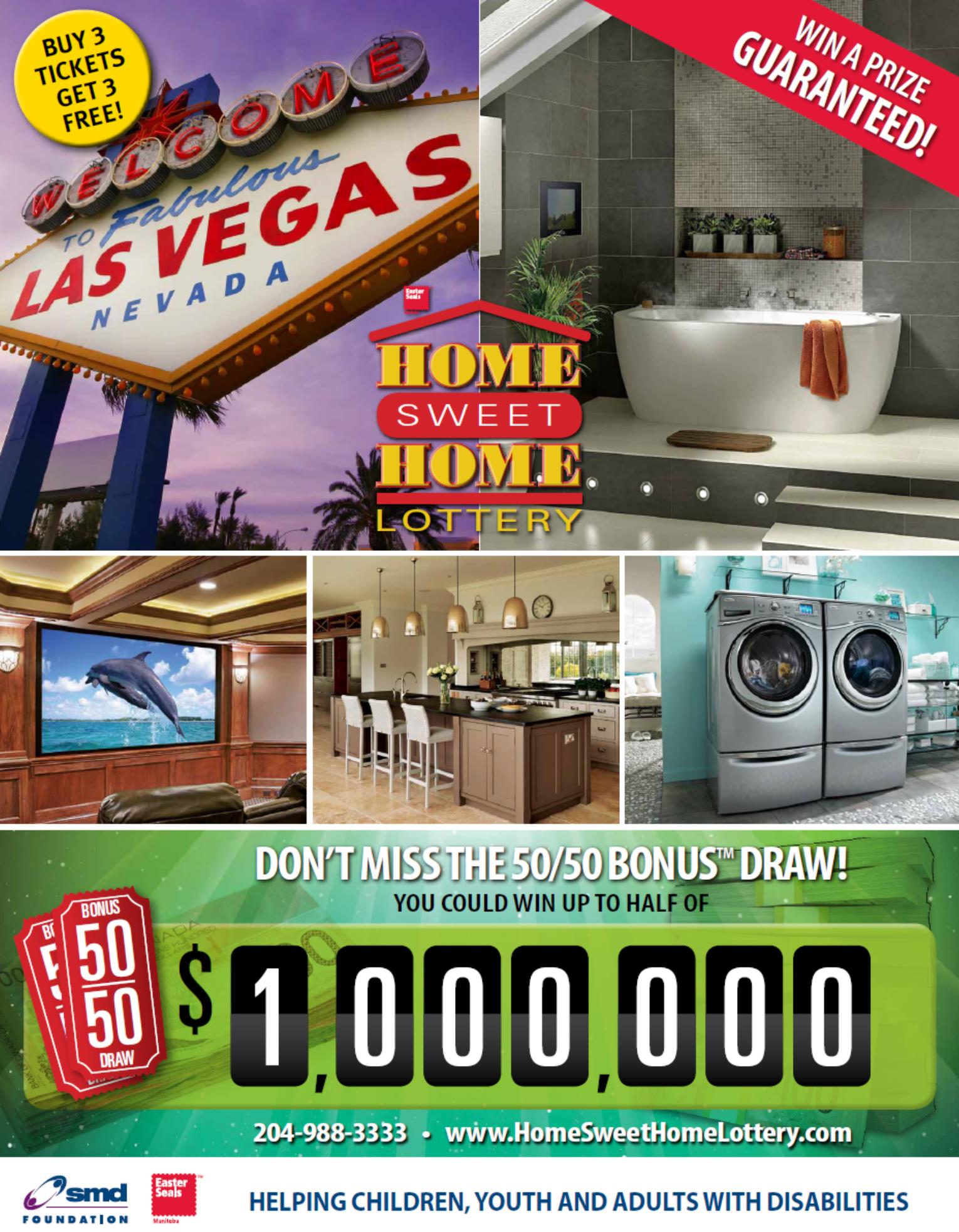 Tickets are $50 each
Buy 3 tickets get 3 free – 6 for $150
SUPER PACK – 25 tickets for $250, plus receive a free pack of 50/50 BONUS tickets ($25 value)
Visit the lottery website or call 204-988-3333 or 1-800-455-6439
Tickets sold on a first come first served basis.
Final deadline is October 31, 2017, before midnight.
In person and fax orders accepted up to 5:00 p.m. on October 31, 2017.
Telephone and online orders must be received by 11:59 p.m. on October 31, 2017.
Mail orders must be postmarked no later than October 31, 2017.