Ontario, August 16, 2017 — With the best odds of winning ever offered, the Canadian Cancer Society kicked off its brand new Fall VIP Lottery this past week.
With 1 in 5 odds of winning, and only 80,000 tickets for sale, Ontario's Biggest Cash and Cars lottery is better than ever. Home Lottery News readers are invited to take a sneak peek at the lottery's website and check out all the amazing prizes!
You won't see any advertising for this lottery, unless you recently purchased tickets and you received a brochure package, so we're excited to be able to spread the news about this exciting lottery.
Picture Yourself Winning BIG with 1 in 5 odds of winning; five amazing Grand Prizes including $1 million; Daily Cash and Daily Car prizes; a brand new Ultimate Family Adventure Early Bird Prize; plus thousands of new bonus cash prizes.
Plus, there is a 50-50 add-on and a special Cash for Kids offer. Check out all the details on the lottery's website.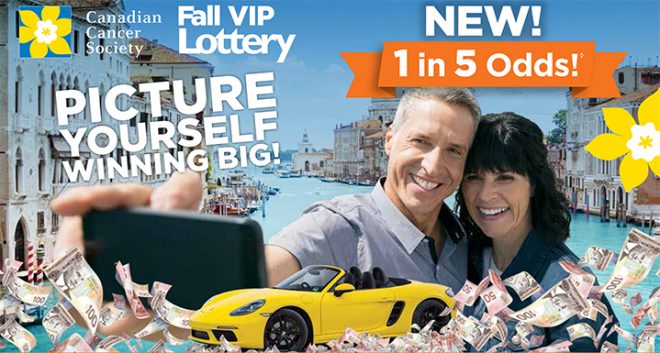 The Canadian Cancer Society has more impact, against more cancers, in more communities, than any other cancer charity in Canada, yet there is still so much more we need to do. Please help them continue to lead the fight.
Order your tickets today! You could win big and make a big difference in the fight against cancer.
Click Here to Order Your Tickets online! Or Call 1-866-839-7777.