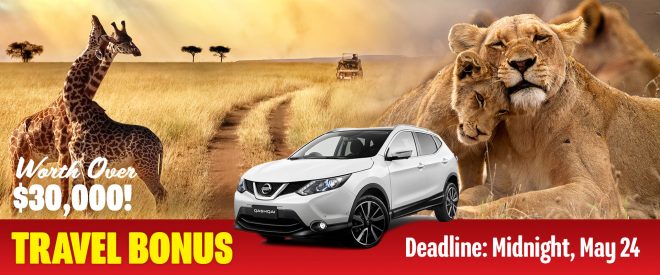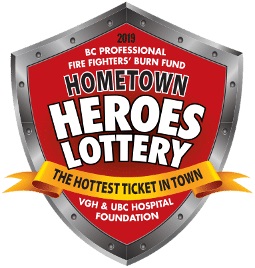 VANCOUVER, BC, May 17, 2019 — Summer's en route… and you should be, too!
Get your Hometown Heroes Lottery tickets today and you could win an incredible vacation package – a 12-Day Southern Africa Extravaganza Tour – plus $5,000 cash. It's one of the world's most amazing destinations and an escape unlike anything you've ever experienced, with wildlife, natural wonder, and adventure all around you!
Or choose a 2019 Nissan Qashqai S AWD, or take $24,000 tax-free cash. Which will you choose? The SUV, the super summer vacay, or the spending money?
Order today to get in the $30,000 Hometown Heroes Travel Bonus. Deadline: Midnight, Friday – May 24.
But that's not all your tickets could get you…
If you order this week, you'll also be automatically entered in the $35,000 Summer Escape Bonus Draw, the $148,000 Early Bird Draw, and the Grand Prize Draw – to win an incredible packages, including a package worth over $2.5 million or $2.1 million cash!
This year's Hometown Heroes Lottery brings you more of everything. Now with 9 Grand Prize options, including homes in South Surrey, Vancouver, Abbotsford, Cultus Lake, Kelowna, Lake Country, Colwood, or Sooke. And there are 3,169 prizes to win – worth a total of over $3.4 million!
Don't forget about the extra games, either…
Get your 50/50 PLUS tickets to win half of BC's biggest summer jackpot – last year's reached $1,650,000 and this year's could top $2.2 million! And play the Daily Cash PLUS for 105 days of winning and $300,000 in cash prizes.
50/50 PLUS tickets start at 2 for $15; Daily Cash tickets start at 2 for $25.
(50/50 and Daily Cash tickets must be ordered in conjunction with Hometown Heroes Lottery tickets.

Every ticket changes a life. Your Hometown Heroes Lottery ticket purchases support VGH & UBC Hospital Foundation, raising essential funds for specialized adult health services and research at VGH and UBC Hospital, GF Strong Rehab Centre, Vancouver Coastal Health Research Institute and Vancouver Community Health Services for all British Columbians. Ticket purchases also support programs of the BC Professional Firefighters' Burn Fund (Burn Fund); including the annual burn camp for young burn survivors.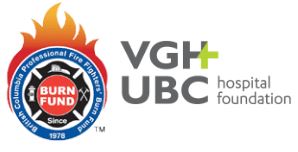 Buy in person at London Drugs, or at the show homes.


(Winner will choose one prize option; other prize options not awarded)