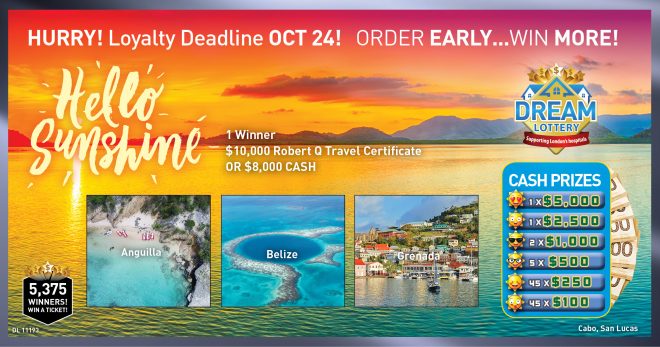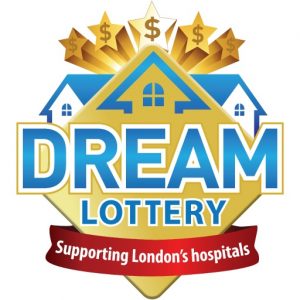 LONDON, ON, October 19, 2019 — Order Now for Dream Lottery's Loyalty Deadline! It's your Last Chance to get in for ALL DRAWS – giving you more chances to WIN! Dream Lottery has a history of selling out early so Don't Wait!
With more Early Winners than ever before … ordering now will have you in for ALL DRAWS! Starting with the Loyalty Draw – Goodbye Cold and Hello Sunshine…Cabo, Belize, Anguilla, Grenada, or wherever the heart desires! Create your own sunshine vacation with a $10,000 Robert Q Travel Certificate OR simply take $8,000 cash! You WIN, you CHOOSE!
PLUS 99 Winners will WIN various amounts of CASH – who doesn't LOVE CASH?! And there's MORE – 5,375 lucky winners will WIN A FREE TICKET…can you imagine winning on a Free Ticket? It's happened before and it could happen again to YOU
HURRY…it's the last weekend to get in for our LOYALTY DEADLINE and be included in ALL DRAWS – ORDER before MIDNIGHT OCTOBER 24!
With tickets as low as 2 for $50 – that's just $25/ticket, it's your most affordable chance to walk away as the newest Millionaire! Gather your friends, family and co-workers to SAVE BIG with 35 for $500 – that's just $14.29 per ticket!
Plus, when you order now, you will qualify for ALL Draws, including Loyalty, VIP, Bonus, Early Bird and ALL final draws of vehicles, vacations, cash and so much more – including 1 of 2 Luxurious Dream Homes or $1,000,000 Cash!
Want MORE WAYS TO WIN? Get in on LONDON'S BIGGEST 50/50! Last jackpot was Record Breaking at over $1 Million… Half to you – half to London's hospitals making it a WIN-WIN! Tickets start at just 2/$15!
And don't forget the NEW MONEY & MEMORIES Calendar, now featuring 2 MONTHS of WINNING…that's 60 WINNERS Last Calendar Lottery Sold Out Early – Don't Miss Out! Tickets starting at just 5/$20!
Remember, by ordering tickets for the Dream Lottery, you are helping change the lives of patients from across Southwestern Ontario who need specialized services at Children's Hospital at LHSC, St. Joseph's Health Care London and London Health Sciences Centre.

Order tickets online, at the Dream Homes, Shoppers Drug Mart locations in London and St. Thomas, or by phone 1-866-802-4117.
Dream Lottery Licence 11193 | 50/50 Licence 11195 | Calendar Licence 11196