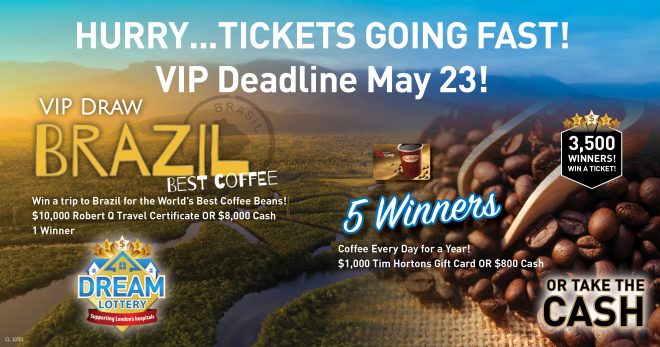 LONDON, ON, May 17, 2019 — Order Now for Dream Lottery's VIP Deadline! Ticket Sales are going fast and we are heading towards another EARLY SELL OUT!
With the VIP Draw, 1 Winner will walk away with chance to wake up enjoying that fresh morning cup of coffee with amazing views in one of the world's best coffee regions – Brazil!
The prize, a $10,000 Robert Q Travel Certificate so go wherever your heart desires OR simply take $8,000 cash! You WIN, you CHOOSE!
PLUS 5 Winners will WIN coffee for an entire year with a $1,000 Tim Horton's gift card OR take $800 cash instead!
There's MORE 3,500 lucky winners will WIN A FREE TICKET! Imagine winning on a Free Ticket? It's happened before and it could happen again to YOU!
HURRY! Now approaching 80% SOLD, and knowing the Lottery is going to SELL OUT you'll want to get your tickets because it's the last weekend to get in for the VIP DEADLINE – Midnight May 23!
With tickets as low as 2 for $50 – that's just $25/ticket, it's your most affordable chance to walk away as the newest Millionaire! Gather your friends, family and co-workers to SAVE BIG with 35 for $500 … that's just $14.29 per ticket!
Plus, order now and you're not just in for the VIP, but Bonus, Early Bird and ALL final draws of vehicles, vacations, cash and so much more including 1 of 3 Luxurious Dream Homes or $1,000,000 Cash!
Want MORE WAYS TO WIN? Get in on London's Biggest 50/50 that could reach $1,000,000 with the WINNER taking half and don't forget the NEW Travel & Treasure Calendar noting that last Spring's Calendar Lottery Sold Out Early & THIS ONE WILL TOO so Don't Miss Out!
Every ticket is a life-changer when you support St. Joseph's Health Care Foundation, London Health Sciences Foundation, and Children's Health Foundation by purchasing tickets for the Dream Lottery.
Don't miss your chance to WIN BIG and WIN SUPPORTING PATIENT CARE!

Visit the Dream Lottery's website to order tickets, participating Shoppers Drug Mart locations, or by phone 1-866-802-4117.
---
Your Dream Home with Jillian Summers!
Introducing the Grand Bend Dream Home designed by Jillian Summers voted Best of London 2019 for Interior Decorator!
Take a tour and see some behind the scenes of the design process! When Jillian designed the Dream Home she wanted it to be everything a cottage should be – cozy, warm & inviting.
There are so many elements of this home that we love and were are sure you will to … ENJOY!
How it came together…
Episode 1 – Grand Bend Part 1

And that's a wrap…
Episode 2 – Grand Bend Part 2
Dream Lottery Licence 10699 | 50/50 Licence 10700 | Calendar Licence 10701