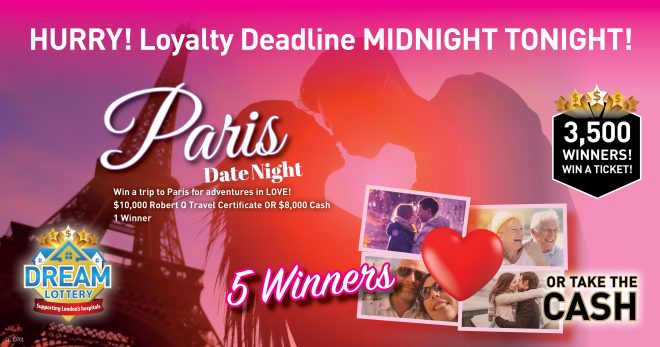 LONDON, ON, May 9, 2019 — Dream Lottery is selling at a record pace, meaning you'll want to ORDER NOW to be in ALL draws or you may miss out!
With the Loyalty Draw, it's all about You Win…You Choose!
That's right, 1 Winner will walk away with a $10,000 Robert Q Travel Certificate OR $8,000 cash!
PLUS 5 Winners will WIN date nights for an entire year with $250 each month or taking $2,500 cash instead!
PLUS 3,500 lucky winners will WIN A FREE TICKET – can you imagine winning on a Free Ticket? It has happened before and could again!
HURRY – it's your last chance to get in for ALL Draws as the LOYALTY DEADLINE is Midnight TONIGHT!
With tickets as low as 2 for $50 – that's just $25/ticket, it's your most affordable chance to walk away as the newest Millionaire! Gather your friends, family and co-workers to SAVE BIG with 35 for $500 – that's just $14.29 per ticket!
Plus, when you order now, you will qualify for ALL Draws, including VIP, Bonus, Early Bird and ALL final draws of vehicles, vacations, cash and so much more – including 1 of 3 Luxurious Dream Homes or $1,000,000 Cash!
Want MORE WAYS TO WIN? Get in on London's Biggest 50/50 and the NEW Travel & Treasure Calendar…last Spring's Calendar Lottery Sold Out Early and this one may too– Don't Miss Out!
Every ticket is a life-changer when you support St. Joseph's Health Care Foundation, London Health Sciences Foundation, and Children's Health Foundation by purchasing tickets for the Dream Lottery.
Don't miss your chance to WIN BIG and WIN SUPPORTING PATIENT CARE!

Visit the Dream Lottery's website to order tickets, participating Shoppers Drug Mart locations, or by phone 1-866-802-4117.
Dream Lottery Licence 10699 | 50/50 Licence 10700 | Calendar Licence 10701