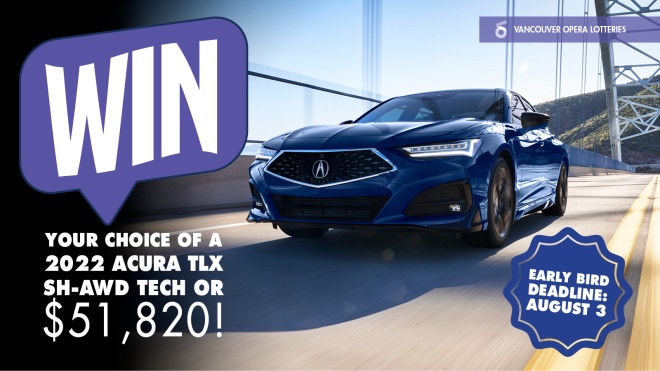 Vancouver, BC, Wednesday, July 27, 2022 — Support Vancouver Opera and win big in their newest summer lottery! Kick your summer off with a chance to win a
2022 Acura TLX SH-AWD Tech or $51,820!
Vancouver Opera hopes to raise $200,000 to support their education, community engagement, young artist training and mainstage programs. They are a quarter of the way to their goal. Help them get the rest of the way!
With only 5,500 tickets being sold, there are great odds! And, if you get your ticket before midnight August 3, 2022, you'll be entered in all of the early bird draws, including a draw for $5,000 on August 4!
Tickets are 1 for $40, 3 for $99, 7 for $196 and 11 for $297.

Tickets for the BONUS 50/50 DRAW are also available.
One luck winner will take home half of the jackpot, worth up to $22,500!
Vancouver Opera is so much more than their main stage performances. They provide musical educational opportunities for students to learn through music and how to create their own works. They support emerging artists, by offering opportunities to learn with industry professionals and practice their craft. They help those living with mental illnesses find ways to express themselves and connect with others through music. As only 30% of their funding comes from tickets to productions, your lottery ticket purchase provides critical support.

Vancouver Opera creates extraordinary experiences that engage, inspire, and entertain your community through voice, music, and theatre.
Early Bird Ticket Sales End: Wednesday, August 3, 2022, at Midnight PDT
Early Bird Prize Draw: Thursday, August 4, 2022, at 3pm PDT
Grand Prize Ticket Sales End: Sunday, October 30, 2022, at Midnight PST
Grand Prize Draw Date: Monday, October 31, 2022, at 3pm PST
Tickets can be purchased by British Columbia residents over 19 years of age.