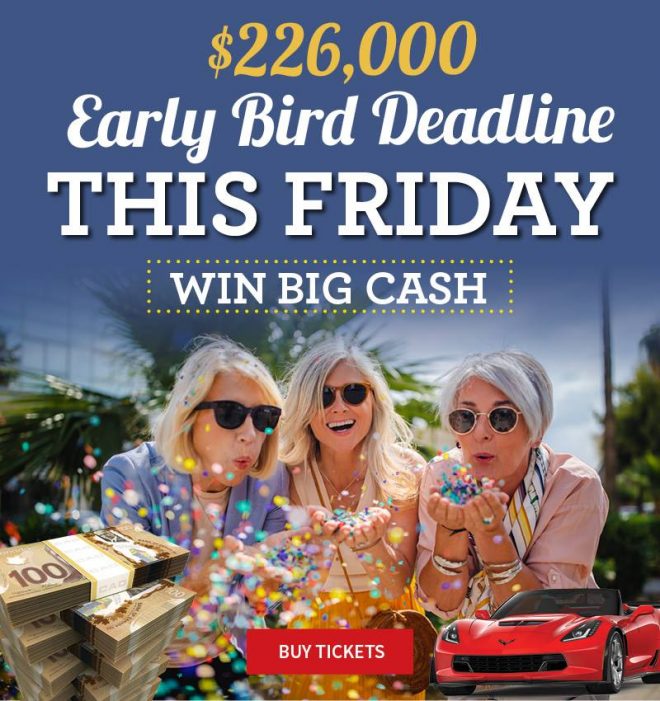 It's your time to win! St. Boniface Hospital Foundation's $226,000 Early Bird Deadline is only 2 days away…
WINNIPEG, MB, March 1, 2019 — Win your choice of a Chevrolet Corvette Z06 or a Range Rover PHEV – and there's $200,000 cash up for grabs, as well. Win travel, cars, gift cards, cash, and of course dream Homes.
Get your Mega Million Choices Lottery tickets today…
Don't let this Early Bird fly away!
Don't forget about the Grand Prize Draw – choose $1.1 million tax-free Cash or take a package with furniture, cars and trucks, up to $400,000 cash, and dream Homes in Winnipeg, Headlingley, or BC's sun-drenched, super-relaxing Okanagan. This year's biggest Grand Prize package is worth over $1.5 million!
And get your 50/50 PLUS tickets – the jackpot is over $800,000 and getting bigger and bigger every single day. The more you buy… the bigger it gets.
And with your Big Score PLUS tickets, you could win a trip to the 2019 Stanley Cup Final, or Winnipeg Jets road trip packages, or cash! 70 winners. 30 days of winning. $130,000 in extra prizes to win.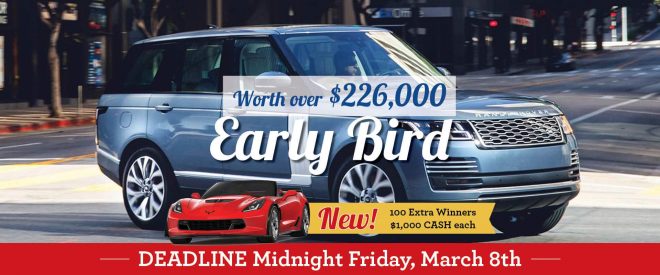 Your ticket purchases matter. You make the difference at St. Boniface Hospital.
With your help, the Hospital is able to provide the highest quality of care during the toughest of times. When you say yes to St. B, you are investing in promoting women's heart health research. When you say yes to St. B, you are helping Hospital patients from labour and delivery, to palliative care. When you say yes to St. B, you are helping purchase the latest technology and high-quality medical equipment. And, when you say yes to St. B, you are improving mental health programs and care.
Tickets are 1 for $100, 2 for $175, 4 for $300, and 8 for $500. 50/50 PLUS and Big Score PLUS tickets start at 2 for $20, and must be purchased with your Mega Million Choices Lottery tickets.


Get your tickets online at StBMegaMillionChoices.ca
by Phone at 204-256-7203
or 1-855-256-7203
or in-person at St. Boniface Hospital Everett Atrium
& St. Boniface Hospital Foundation Office,
or at London Drugs in St. Vital Centre,
Red River Co-op Food Store and Main St. Pharmacy,
and select Shoppers Drug Mart locations
Licence No: LGCA 1517-RF-30408, LGCA 1517-RF-30407, LGCA 1517-RF-30335