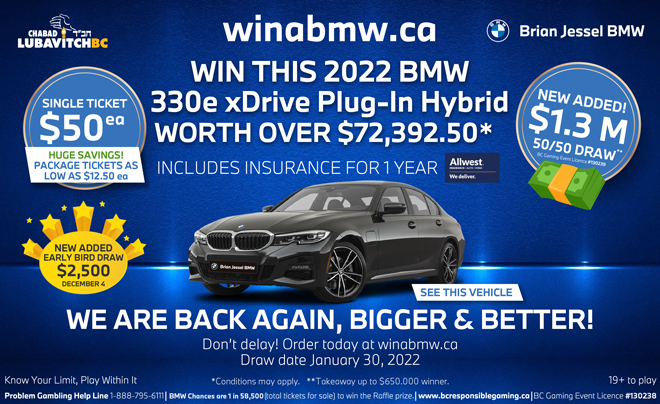 VANCOUVER, BC, November 25, 2021 — Could you imagine walking away with up to $650,000 dollars and/or enjoying the thrill and excitement when you take the wheel of this $75,000 2022 BMW 330e xDrive Plug-In Hybrid vehicle courtesy of Brian Jessel BMW. Chabad BC is proud to present their second annual Win A BMW lottery in support of key children's programs across British Columbia. Draw will take place live on Sunday January 30th at 6pm from Brian Jessel BMW at 2311 Boundary Road Vancouver.
And this year, the car raffle got even bigger! They've added two amazing early bird prizes of $2,500 each drawn on December 5 and December 19, 2021. You must be in it to win it and order your tickets now as the cut off early bird deadline is coming soon! Enter today and you could enjoy some great added holiday cash in their new early bird draws!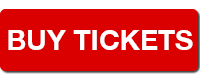 ENTER NOW AND YOU COULD WIN BIG
"Brian Jessel BMW is proud to support Chabad BC and donate this luxurious 2022 BMW 330e xDrive Plug-In Hybrid for the bigger and better annual Chabad WIN A BMW LOTTERY." Said Jim Murray, Managing Partner at Brian Jessel BMW. "We are so proud to be back to support Chabad BC and the outstanding work they do throughout the province."
The Win A BMW Lottery is the collaboration between Brian Jessel BMW, Canada's premiere BMW automobile dealer and Chabad British Columbia. Funds raised from this lottery will support educational programs, housing, and community services provided across BC by Chabad British Columbia.
"We are so humbled to have been given this phenomenal 2022 BMW 330e xDrive Plug-In Hybrid plus $3,000 in Insurance support from our friends at Allwest Insurance. This luxurious state-of-the-art BMW 330e xDrive from Brian Jessel BMW can be yours! This is our key fundraising campaign for Chabad B.C. and we are grateful for the long-standing support that Brian Jessel, Jim Murray, and the entire Brian Jessel BMW team and Paul Zalesky and his phenomenal team at Allwest Insurance who jointly have been providing support to Chabad BC for the past twenty plus years." said Yitzhak Wineberg, Founder & Executive Director of Chabad BC.
Be sure to purchase your tickets today and can be purchased here. BMW 330e xDrive Plug-In Hybrid vehicle draw tickets start at $50 for 1, 3 for $100, 7 for $180 and best value 20 for $250! That's only $12.50 per ticket!
The new added Pot of Gold 50/50 added draw has a jackpot of up to $650,000 to the winner* (at sell-out) and tickets start at 1 for $10, 3 for $20, 10 for $50 and best value 20 for $100!
Don't delay — enter the Win A BMW lottery today and you may be driving off in this 2022 – 330e xDrive Plug-In Hybrid state of the art vehicle with your taxes and insurance paid on Sunday January 30, 2022. Also, this year you could walk away with up to $650,000 tax-free! In our first-ever 50/50 pot of gold added draw. Tickets start at only $10!