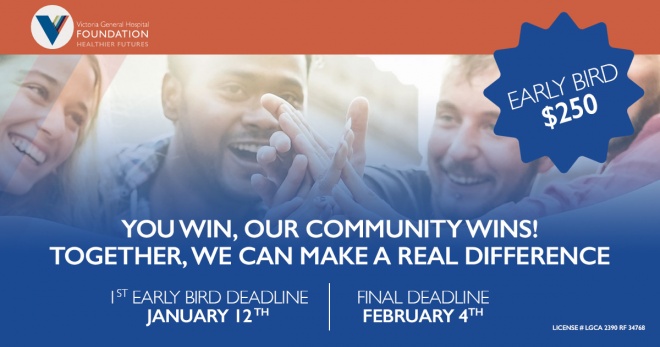 Winnipeg, Manitoba, January 11, 2020 — The Victoria General Hospital Foundation has launched another raffle for the new year, with an early bird draw happening on Tuesday January 12 at 9:00 AM. You could win $250 in that Early Bird draw, and be eligible for half of final jackpot, closing February 4th at 11:59 p.m.
The jackpot grows with every ticket sold, and it is currently over $5,000.
Buy your tickets to be eligible for next jackpot to be drawn February 5th at 9:00 a.m. Ticket purchases provide funding to help support mental health initiatives across our great community, and provide much-needed resources and programs for those in need.
Don't delay, buy TODAY! Thank you for your support of The Vic Foundation and good luck!
License # LGCA 2390 RF 34768