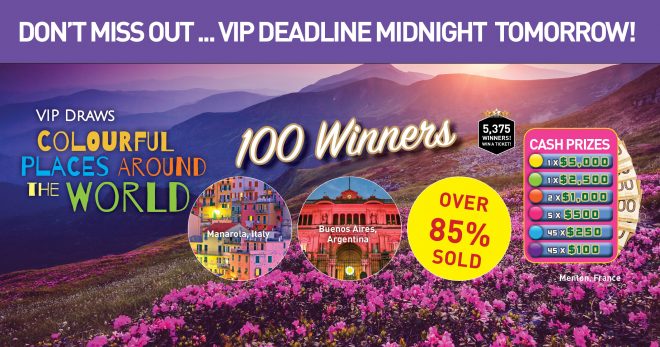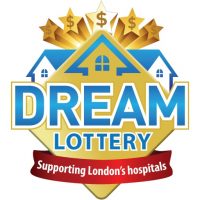 LONDON, ON, November 6, 2019 — With Record Breaking Ticket Sales … Dream Lottery will SELL OUT EARLY! Order Now for Dream Lottery's VIP Deadline!
Your chance to WIN MORE with the most early draws ever in the VIP Draw …
1 Winner will walk away with a $10,000 Robert Q Travel Certificate OR $8,000 cash!
PLUS 99 Winners will WIN MORE CASH!
PLUS 5,375 lucky winners will WIN A FREE TICKET!
SO MUCH TO WIN…SO LITTLE TIME!
VIP Deadline is MIDNIGHT TOMORROW!

PLUS, order now and you qualify for VIP, Bonus, Early Bird and ALL final draws of vehicles, vacations, cash and so much more – including 1 of 2 Dream Homes or $1,000,000 Cash!
Tickets are as low as 2 for $50 – that's just $25/ticket making it an affordable chance to walk away as the newest Millionaire!
Looking for MORE WAYS TO WIN? Get in on LONDON'S BIGGEST 50/50! Last jackpot was Record Breaking at over $1 Million… Half to you – half to London's hospitals making it a WIN-WIN! Tickets start at just 2/$15!
PLUS don't forget the NEW MONEY & MEMORIES Calendar, now featuring 2 MONTHS of WINNING! Last Calendar Lottery Sold Out Early – and this one will too! Tickets starting at just 5/$20!
Help change lives of patients from across Southwestern Ontario who need specialized services at Children's Hospital at LHSC, St. Joseph's Health Care London and London Health Sciences Centre.

Order tickets online, at the Dream Homes, Shoppers Drug Mart locations in London and St. Thomas, or by phone 1-866-802-4117.
Dream Lottery Licence 11193 | 50/50 Licence 11195 | Calendar Licence 11196