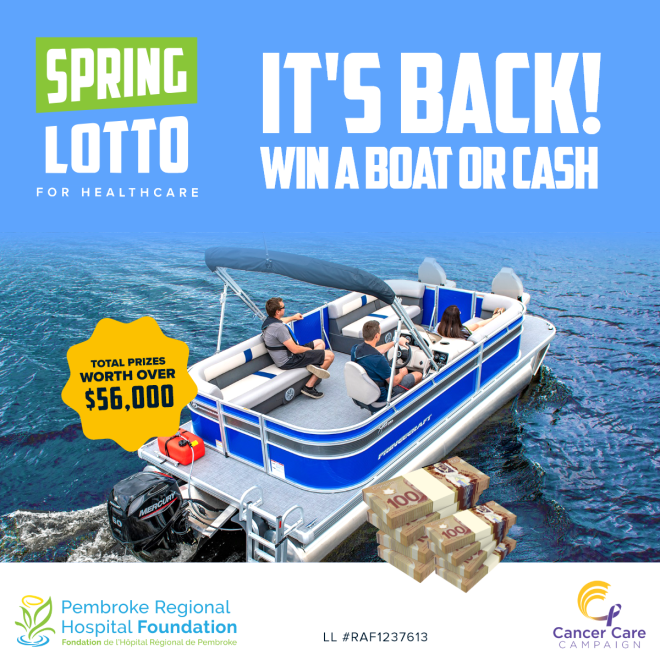 Pembroke, Ontario, April 22, 2022 — Spring Lotto for Healthcare is back with MORE prizes and even more chances to win. Play now and you could win over $56,000 worth of prizes and support local cancer care.

BOAT OR CASH?
For this year's Spring Lotto, one lucky winner will get to choose between not one but two grand prizes.
Grand Prize Option #1: A 2022 Princecraft Pontoon Boat, valued at $42,000.
Grand Prize Option #2: $35,000 in Cash.
Grand Prize Deadline Is June 16 at 11:30 a.m.


PLAY EARLY TO WIN WEEKLY PRIZES
Get your tickets now for a chance to win the following early bird prizes:
4 x $1,000 Cash Prizes – Deadline is April 28, May 12, May 26, June 9
Outdoor Patio BBQ $3,000 Package – Deadline is May 5 at 11:30 a.m.
Tech Lover's $3,000 Apple Package – Deadline is May 19 at 11:30 a.m.
$3,000 The Brick Home Shopping Spree – Deadline is June 2 at 11:30 a.m.
Tickets start as low as $25.

SUPPORT HEALTHCARE CLOSE TO HOME
All proceeds from Spring Lotto will help fund the Pembroke Regional Hospital's chemotherapy and medical day care unit to advance the wellbeing of citizens in the surrounding communities.

Good luck!
Pembroke Regional Hospital Foundation
705 Mackay St.
Pembroke, ON
K8A 1G8
Lottery license #RAF1237613