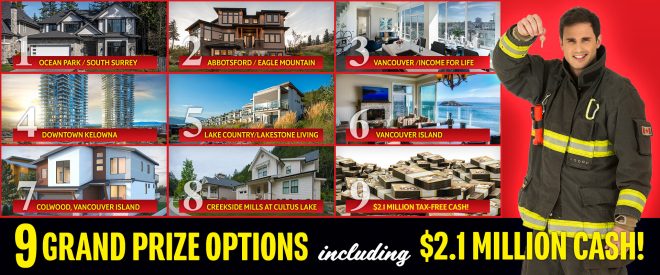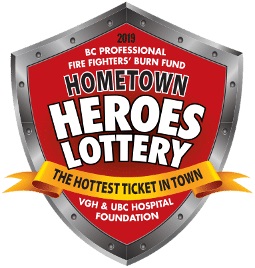 VANCOUVER, BC, July 9, 2019 — You can be a Hero!
The Absolute Final Deadline for this year's Hometown Heroes Lottery is only 2 days away – Midnight, Thursday, July 11. So order your tickets now to win $2.1 million cash, or your choice of amazing home packages all across beautiful British Columbia. Choose lakeside living, ocean-view paradise, an exciting penthouse condo in the city, or the ultimate suburban oasis in South Surrey, with a $2.5 million Ocean Park home package.
For the first time ever, the 2019 Hometown Heroes Lottery is offering its biggest winner 9 Grand Prize options to choose from!
Which will you choose?
There's the very best of the Okanagan – a stunning 2,500 square-foot vacation paradise in Lake Country (along the shores of Okanagan Lake) and $1.1 million cash, or a lakeview sub-penthouse in Downtown Kelowna (which comes with $1 million cash) – or the ultimate Vancouver city living Grand Prize, with a gorgeous penthouse condo at Central on Main Street, with a rooftop deck, a Tesla Model 3, furnishings, a European travel gift card, and $150,000 cash!
Or how about Cultus Lake? You'll love the outdoor life in this 2,075 square-foot, 3-bedroom, furnished home. Life is heavenly here – where friendships grow and families gather. And it comes with $1,000,000 cash!
Or there are two options on Vancouver Island – a 5-Bedroom Colwood home with jaw-dropping water views that comes with two BMWs, a Harley-Davidson, furnishings, and $900,000 cash, or a SookePoint Surfside Yacht Suite along the coast of the wild Pacific Ocean, with incredible views, a Tesla Model X, and $850,000 cash.
Or there's this year's two biggest homes, and this year's two biggest Grand Prizes! Choose a 4,550 square-foot Abbotsford home on Eagle Mountain (comes with $500,000 cash), or take the keys to an Ocean Park home in South Surrey – 4,580 square feet, furnishings, a BMW cabriolet, and $50,000 cash in a $2.5 million Grand Prize package.
Or take the 9th Grand Prize option – $2.1 million cash. This could be the biggest win of your life!
Over 3,100 prizes to win, worth over $3.4 million… There's something for everyone in this year's Hometown Heroes Lottery!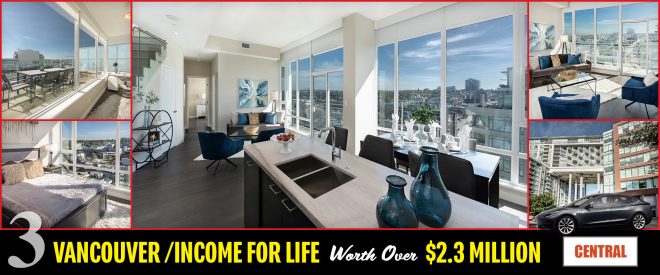 Tickets cost 3 for $75: You can't beat this deal! It's BC's best-priced mega home lottery. Live where you want, how you want… this could be your ticket to BC real estate.
Get your 50/50 PLUS tickets today and win even more cash – it could grow all the way to $2.2 million, and the winner takes half! Also, don't forget to order your Daily Cash PLUS tickets as well – you could be one of 109 extra Heroes Lottery winners, with $300,000 in total extra cash up for grabs.
50/50 Update:
Now Over $1.5 Million

604-648-4376
1-866-597-4376
Buy in person at London Drugs, or at the show homes.


(Winner will choose one prize option; other prize options not awarded)