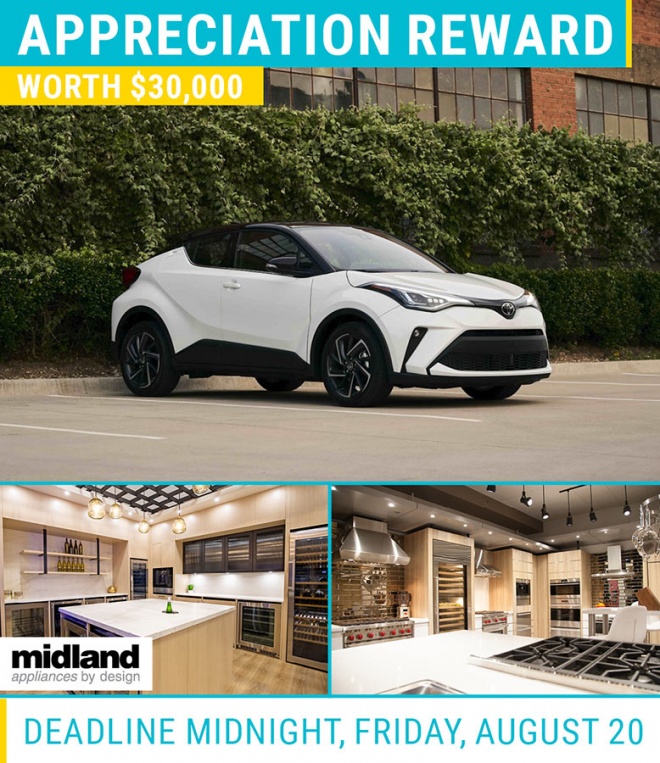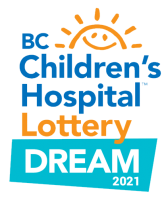 VANCOUVER, BC, Monday, August 2, 2021 — Buy Sooner, Win more. Say Yes to BC Children's Hospital! Get in today to be in for all the biggest draws this year. The $30,000 Appreciation Reward Deadline is Friday August 20. You won't want to miss out! Win the Midland Appliance by Design Gift Card + $5,000 Cash OR 2021 Toyota C-HR LE OR $26,000 Cash. It's just one of over 3,000 prizes including your Choice of the new 8 Grand Prize Options.
8 Grand Prize Dreams – Including $2.3 Million Cash
The winner of this year's 2021 BC Children's Hospital Dream Lottery Grand Prize Draw will get to choose 1 of 8 amazing options, including home packages throughout beautiful British Columbia – or $2.3 million tax-free cash, the largest cash Grand Prize option in BC Children's Hospital Lottery history!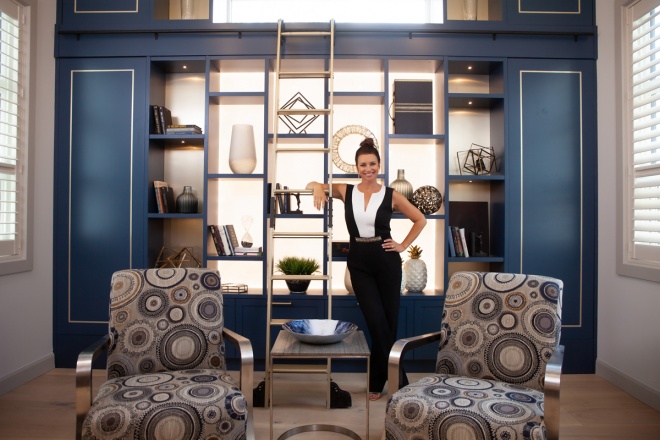 You could live the dream in the location of your choice, whether it's lakeview living in Kelowna or Penticton, city living in Vancouver or downtown Victoria, or within a golf course resort like Crown Isle in Courtenay, or a$2.9 million home package in South Surrey's Morgan Creek neighbourhood.
Dream Home Video Tours Now Online.
And, if you're in the mood for a sneak peek, video tours for both South Surrey homes (built by Red Tree Creative Homes, or Marquis Custom Homes) and the Penticton home (by Parallel50 Constructions) are now online.
The Penticton Dream Home combines 4 bedrooms and 3 bathrooms on two levels, with a setting featuring open skies, gentle rolling hills and unlimited outdoor adventure.
The 5,975 sq. ft. Red Tree home in Morgan Creek is full of fun, luxurious features, such as a backyard basketball court and a secret lounge on the lower level, while the Marquis home (also in Morgan Creek) stars with 18-foot vaulted ceilings, oak beams, a hot tub and rec room, and a 40-foot patio – all in 5,744 sq. ft. with a modern farmhouse style.
"This home is bright and welcoming," says Erin Cebula, this year's Dream Lottery spokesperson, in her tour of the Marquis home, where she highlights the house's modern design and one of her favourite features – a 9-foot eclipse window over the kitchen sink that brings the outside in and the inside out.
"There's lots of room for family, friends, and entertaining… There's gorgeous, engineered flooring throughout, radiant heat, and the entire home is air conditioned.
"Eight-foot vaulted ceilings are in every bedroom, and you will absolutely love relaxing in your spa-like ensuite (bathroom) – just around the corner."
Which home is your favourite? Head to the Dream Lottery website to view the photo galleries and video tours and make your pick!
---
Challenge the status quo
Support research breakthroughs that will conquer childhood illnesses. Every year, BC Children's Hospital treats over 96,000 kids, many of them battling debilitating diseases and chronic conditions. Research is critical to overcoming these illnesses—and with your support, you're helping to advance studies that have the power to solve the biggest challenges in child health.
From opening the door to novel therapies for conditions like childhood cancer or rare diseases, to discovering life-changing breakthroughs in the way experts deliver care or perform surgeries, your support will bring new hope to children and families who need it most.
You're helping make more breakthroughs a reality.

---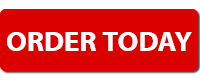 Get your tickets online,
by Phone at 604-536-2491
or 1-888-888-1567.
or in-person at London Drugs
and at Save-On-Foods
Tickets cost 3 for $100 / 6 for $175 / 9 for $250 / 20 for $500
50/50 PLUS tickets are 2 for $15 / 6 for $30 / 16 for $60
Daily Cash PLUS tickets are 2 for $25 / 6 for $50
50/50 PLUS and Daily Cash PLUS tickets can only be purchased if a 2021 BC Children's Hospital Dream Lottery main ticket has been purchased.
---