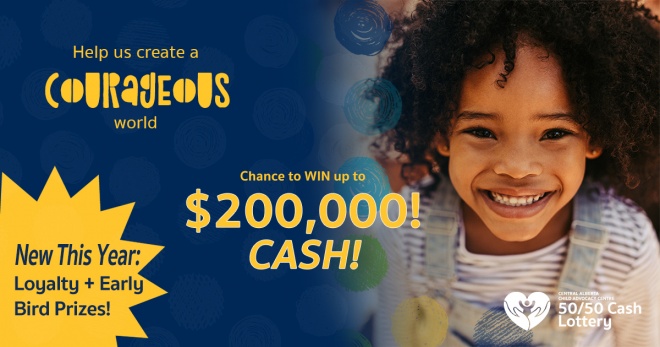 Red Deer, Alberta, October 30, 2020 — This year the CACAC 50/50 has NEW PRIZES and there is still time to be entered to WIN!
Introducing the Loyalty Prize DRAW! 2 Prize Packages available to win – worth over $650 EACH!
Deadline is almost here – buy before 11PM Sunday November 1st to be entered in for ALL prizes!
This year, the Lottery also has 3 EARLY BIRD PRIZES! And the biggest prize yet… the GRAND PRIZE! Chance to WIN up to $200,000!
Tickets start at just $10, or Increase your chances to win with 10 for $25, 25 for $50 and 50 for $75 Guaranteed minimum prize of $80,000.
Together, we can end child abuse. Your ticket today helps give the chance of a brighter and healthier future tomorrow.
Be Brave. Buy Your Tickets Today


Order online at cacac5050.ca, or call 587-272-2233!
Loyalty Deadline: November 2nd @ 11PM
Early Bird Deadline: December 19th @ 11PM
GRAND PRIZE Deadline: January 31st, 2021 @ 11PM
Information about CACAC:


The CACAC is dedicated to nobly protecting the innocent and vulnerable – our children. Our Centre is comprised of a collective that is driven by the courage to support children, youth and their families affected by abuse, enabling them to build enduring strength and overcome adversity. It takes courage to come together as a community to bring child abuse to the forefront, giving a voice to a difficult issue that is often silenced.
As of October 2020, the CACAC has supported over 1,150 children, from 80 communities across Central Alberta. Two-thirds of these children have experienced previous abuse, and almost one-half have concerns such as mental health, substance abuse, suicidal ideation or attempts, and aggression.
Lottery License Number: 563873