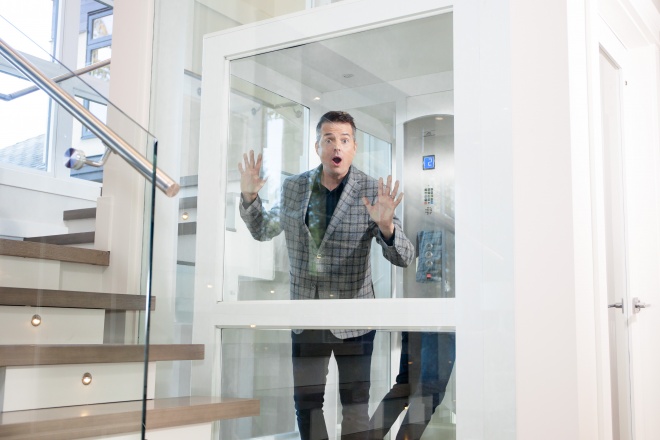 Millionaire Lottery spokesperson Todd Talbot shows off the glass-door elevator at the South Surrey home – part of a show-stopping $3.1 million Grand Prize package.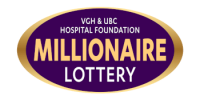 VANCOUVER, BC, Friday, October 30, 2020 — If you haven't purchased your Millionaire Lottery tickets yet, now's the perfect time to do so…
Beat the Loyalty Bonus Deadline (Midnight, Friday, November 6) and you could win 1 of 3 prize options: a 2020 Toyota Corolla Hybrid, a 2020 Toyota C-HR LE, or $25,000 cash!
This year's Millionaire Lottery offers over 3,100 prizes to win, worth over $4.2 million, including three Bonus Draws, 76 Early Bird draws (worth over $240,000), and of course the Grand Prize Draw – to choose one of seven home packages (the largest is worth over $3.1 million) or $2.7 million tax-free cash!
"During this global pandemic, there has never been a better time to support the VGH & UBC Hospital Foundation," says Todd Talbot, Millionaire Lottery spokesperson. "This year, the Millionaire Lottery has over 3,100 prizes to win; valued at over $4.2 million. The seven grand prize homes are more spectacular than ever before!
"One of the grand prize packages includes a 6,453 sq. ft. state of the art home located in South Surrey and it is valued at over $3.1 million. It has six bedrooms, eight bathrooms, a two-bedroom suite, three-car garage, RV parking, and a glass elevator."
You could become a multi-Millionaire. You just need a ticket to win it!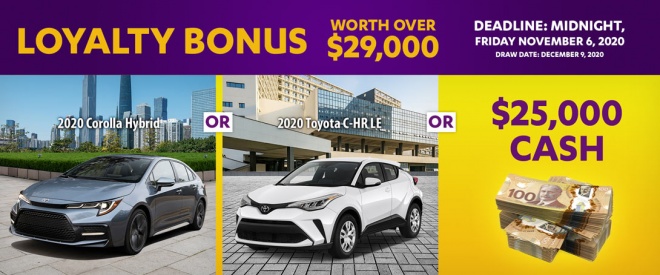 Plus, if you get your Daily Cash PLUS tickets, you'll be entered into 209 draws in 105 straight days of winning – with $300,000 in extra cash prizes to win. And, if you get your 50/50 PLUS tickets, you'll be entered to win half this winter's biggest jackpot – last year's reached $1,715,925 and this year's could be even bigger! The max jackpot is $2.28 million.
---
We all need VGH, and VGH needs you.
Your win wouldn't just be life-changing – your tickets could be life-saving.
Your Millionaire Lottery tickets support specialized adult health care and research in Vancouver, at Vancouver General Hospital, UBC Hospital and GF Strong Rehab Centre. Support life-saving care at British Columbia's largest hospital, and help our doctors and nurses, frontline workers, and first responders – and all the patients who visit VGH every day.
"Everyday medical needs didn't stop when COVID-19 hit," said Angela Chapman, President and CEO, VGH & UBC Hospital Foundation. "Throughout this pandemic, our researchers and medical teams, who treat patients from across B.C., have done a tremendous job looking after the patients in their care.
"Millionaire Lottery funds are as important as ever as we continue to ensure that our world-class health care teams are equipped with the tools and technology they need to provide the best care possible."
Every year, VGH performs more than 30,000 surgeries and treats more than 600,000 patient visits. VGH treats 60% of British Columbia's adult trauma cases – and 50% of the hospital's surgical patients are from outside Vancouver.
Our province's health care heroes are fighting COVID-19 at VGH.
"On behalf of the Foundation, thank you to everyone who supports the Millionaire Lottery," Chapman said. "You are vital to helping us transform health care."
---
HOW TO ORDER
Order online at MillionaireLottery.com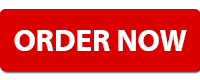 By Phone: (604) 602-5848
Toll-Free: 1-888-445-5825

Tickets are also available for purchase in-person at London Drugs throughout British Columbia.
Tickets cost 2 for $100 / 5 for $175 / 10 for $250 / 25 for $500
50/50 PLUS tickets are 2 for $15 / 6 for $30 / 16 for $60
Daily Cash PLUS tickets are 2 for $25 / 6 for $50
50/50 PLUS and Daily Cash PLUS tickets can only be purchased if a 2020 VGH Millionaire Lottery main ticket has been purchased.
---