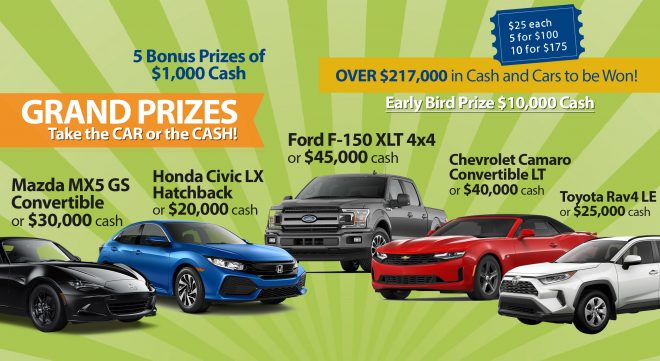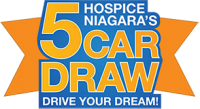 St. Catharines, Ontario, May 14, 2019 — Back for it's 11th year, Hospice Niagara's 5 Car Draw is better than ever before. New this year are the online ordering and Bonus Draws. Over $217,000 in prizes will be won, including:
2019 Honda Civic LX Hatchback, valued at $29,430.85 (or take $20,000 cash)
2019 Toyota Rav4 LE FWD, valued at $33,792.65 (or take $25,000 cash)
2019 Mazda MX5 GS Convertible, valued at $39,205.35 (or take $30,000 cash)
2019 Chevrolet Camaro Convertible LT, valued at $46,250.90 (or take $40,000 cash)
2019 Ford F-150 XLT 4×4, valued at $53,871.62 (or take $45,000 cash)
$10,000 Early Bird prize
Five $1,000 Bonus Prizes
Tickets are only $25 each and all proceeds stay in Niagara. For an even better deal, bundles of 5 tickets are $100, or get 10 for only $175.
Visit the 5 Car Draw website for more information, or order online. Or order by phone at 905-984-8766.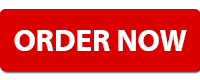 About Hospice Niagara
Hospice Niagara focuses on improving the quality of life for people living with life-limiting illnesses, dying, death, loss and grief. They believe that no one should make this journey alone. Through a variety of programs and services, Hospice Niagara is able to provide compassionate comfort and support for families. Their programs and services are offered at no cost to clients, and the 5 Car Draw lottery is their biggest fundraising event each year.
Lottery Licence #10673