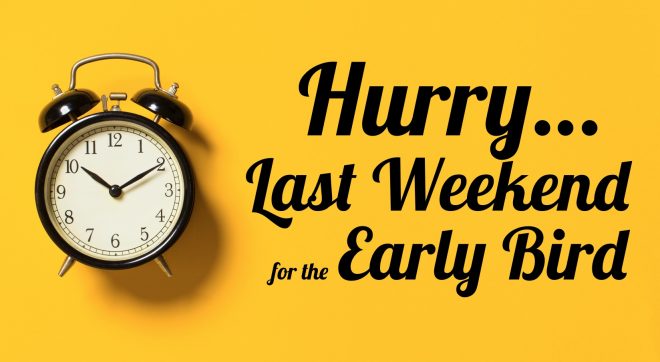 WINNIPEG, MB, March 1, 2019 — When you get in early, there's more to win…
On that note, it's the last weekend for order your tickets for this year's Early Bird Draw – in the St. Boniface Hospital Foundation's Mega Million Choices Lottery! This year's choice is between two terrific automobiles, or cash…
Take the 2019 Chevrolet Corvette Z06 and fulfill your lifelong dream of parking a super sportscar in your garage
Or choose the Land Rover Range Rover P400e PHEV, a terrific luxury SUV
Or, as always, there's the cash option and more!
This year's Early Bird is worth over $226,000 total, including $200,000 in cash to win.
Deadline: Midnight, Friday – March 8th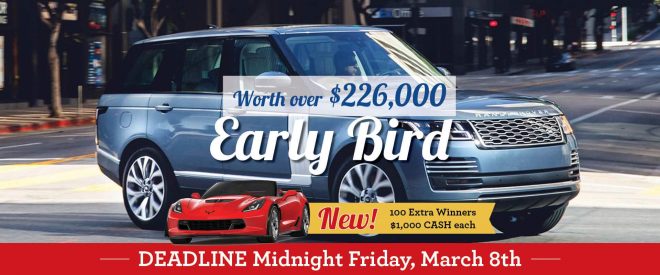 Live Where You Love…
… as Manitoba's newest Millionaire!
This year's biggest Grand Prize is worth over $1.5 million – or choose $1.1 million tax-free cash.
Your dreams of a worry-free life, early retirement, world travel… they're all just one win away.
Win the Grand Prize Draw and choose 1 of 7 humongous packages – featuring homes by Foxridge, Hearth, and Signature in Winnipeg (Bridgwater Trails and Sage Creek) and Headingley (Taylor Farm), or a condo at Watermark Beach Resort in Osoyoos, BC, or a home in Kelowna's West Harbour. Spend your days in Canada's summer playground – the Okanagan – with premier lakeside living every morning, afternoon, evening and night.
Your ticket purchases matter. You make the difference at St. Boniface Hospital.
Tickets are 1 for $100, 2 for $175, 4 for $300, and 8 for $500. 50/50 PLUS and Big Score PLUS tickets start at 2 for $20, and must be purchased with your Mega Million Choices Lottery tickets.



Get your tickets online at StBMegaMillionChoices.ca
by Phone at 204-256-7203
or 1-855-256-7203
or in-person at St. Boniface Hospital Everett Atrium
& St. Boniface Hospital Foundation Office,
or at London Drugs in St. Vital Centre,
Red River Co-op Food Store and Main St. Pharmacy,
and select Shoppers Drug Mart locations
Licence No: LGCA 1517-RF-30408, LGCA 1517-RF-30407, LGCA 1517-RF-30335