CAMPBELL RIVER, BC, April 4, 2017 — The foundation behind the annual Because You Care Hospital Lottery, the Campbell River Hospital Foundation funds vital, state-of-the-art medical equipment and continuing education for its local healthcare professionals. The Foundation also raises funds for the Yucalta Lodge, a local subsidized residential care facility. Proceeds from this year's lottery will be used to purchase a portable ultrasound for the Campbell River Hospital, the community's first point of referral for emergencies and illnesses including heart attacks, strokes, and respiratory problems for 54,000 people in North Vancouver Island. A new hospital is currently under construction and is slated for opening at the end of this year.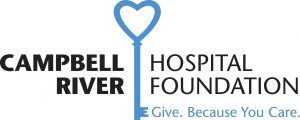 A registered charity, the Foundation is governed by a volunteer Board of Directors responsible for applying for and distributing grants for equipment, health education, and other projects in an effort to preserve quality health care in Campbell River over the long-term. The Foundation, established in 1989, is a fundraising partner with the Vancouver Island Health Authority (VIHA) which is one of the largest health organizations in the country and currently funds 18% of all the priority medical equipment for the hospital annually.
The Foundation recently funded a $2.2 million MRI Machine, a $64, 817 Video Processor, a $47,725 Holter Monitor Package, and a Transport Isolette valued at $29, 917. A complete list of items funded is available in the Foundation's Winter 2017 News.
Support for the Foundation can be provided through the Because You Care Hospital Lottery, online, by phone (250-850-2418 or Toll Free 855-550-2418), or by mail to or in-person at the Foundation office itself (375 – 2nd Avenue, Campbell River, BC, V9W 3V1) with a completed Donation Form (available here). The Foundation also holds regular fundraising events.
For more information on the Campbell River Hospital Foundation please visit www.crhospitalfoundation.ca.
See reference information here on Home Lottery News for the 2017 Campbell River Hospital Foundation Because You Care Lottery.