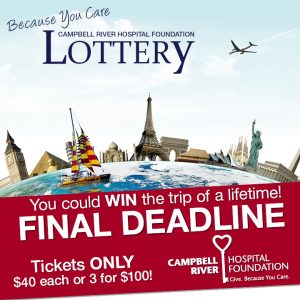 CAMPBELL RIVER, BC, May 26, 2017 — Only days remain to grab your tickets to the Because You Care Lottery! If you're ready for your next travel adventure, then start packing your bags and make sure to head to their website and buy your ticket before sales end on Monday! What are you waiting for- tickets are only $40, or grab 3 for $100!
Don't miss your chance for a big adventure! Ticket sales close on Tuesday – that's only four days away!
Order your tickets today by calling 250-850-2418 or toll-free 1-855-550-2418, or order online.