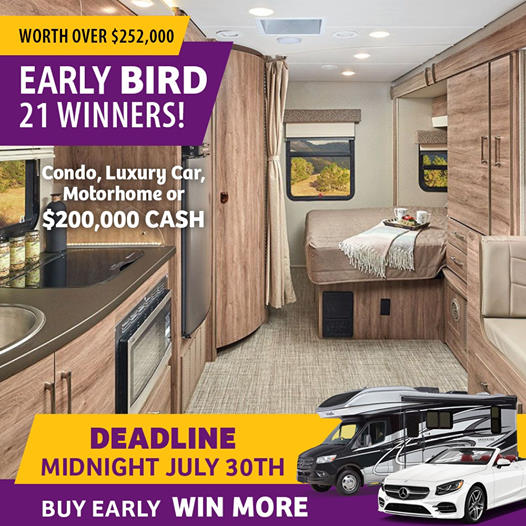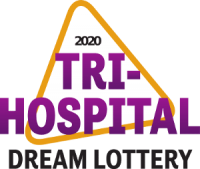 WINNIPEG, MB – Friday, July 24, 2020 – The Tri-Hospital Dream Lottery is almost 95% sold, the 50/50 PLUS jackpot is over $1,170,000, and it's the last weekend to beat the Early Bird Deadline…
That means you're running out of time to get your tickets – and there's oh, so much to win!
The Early Bird Deadline is Midnight, Thursday (July 30) and there are $252,000 in prize draws – including 20 extra winners of $1,000 cash each. The biggest Early Bird winner will choose 1 of 4 prize packages: a 2020 Jayco Melbourne Motorhome, a 2020 Mercedes-Benz S63 AMG Cabriolet, a Winnipeg Condo by Irwin Homes (102-1505 Molson Street), or $200,000 CASH.
And you'll be entered into the Grand Prize Draw, to win the biggest cash prize of the summer – $1.2 MILLION tax-free!
Or choose your Dream Home: a KDR Home in Winnipeg's Bridgwater Trails or a KDR custom Cottage on Falcon Lake, a Maric Home in Bridgwater Trails, a Gino's Home in Winnipeg's Sage Creek, or a Downtown Winnipeg Condo at 390 on the River.
Your new life is only a winning ticket away!
50/50 PLUS
Jackpot over $1.17 Million
Winner takes half!

Daily Cash Calendar
120 extra winners,
30 days of winning
---
HOW TO ORDER
Order online at trihospitaldream.com / By phone at (204) 254-9131 or toll-free at 1 (844) 654-4677 / Tickets are available in-person at London Drugs at St Vital Centre and select Shoppers Drug Mart locations. Tickets cost 1 for $100 / 4 for $300.
*2-packs and 8-packs are sold out.
50/50 PLUS tickets are 2 for $20 / 8 for $40 / 30 for $60)
Daily Cash Calendar tickets are 2 for $20 / 5 for $40 / 10 for $60)
50/50 PLUS and Daily Cash Calendar tickets can only be purchased in a 2020 Tri-Hospital Dream Lottery main ticket has been purchased.
---
Order online or by phone, click on this website for ways to order and more info: TriHospitalDream.com
Or order in-person at these locations: London Drugs St. Vital Centre and select
Shoppers Drug Mart locations including the Manitoba Clinic.

License No. LGCA 1517-RF-34337, LGCA 1517-RF-34338, LGCA 1517-RF-34505