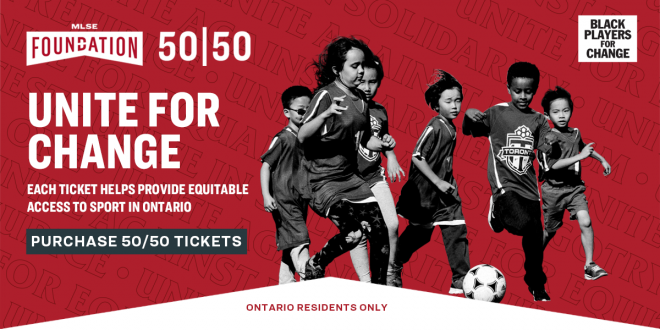 TORONTO, ON, November 23, 2020 — The MLS playoffs have begun, and the Reds are ready! They hit the field tomorrow at 6PM for their first playoff game of the season against the Nashville SC.
Take home the BIG JACKPOT – In celebration of the Toronto FC's winning season, the MLSE Foundation is running a two-day 50|50 event. The 50|50 ticket sales are open until the final whistle of the Red's first playoff game.
The MLSE Foundation will also be giving away a signed TFC Michael Bradley jersey as an early bird prize. To catch the early bird prize, 50|50 tickets must be purchased before 12 PM tomorrow (November 24).

Unite for Change: Toronto Football Club, and MLSE Foundation are committed to confronting anti-Black racism and removing systemic barriers facing Black youth. We partner with and invest in Black communities, through employment, education, public spaces and youth programming.
Buy a 50|50 ticket today to provide equitable access to sport in Ontario.
Cheer on the REDS and support the leaders of tomorrow.
Good luck!

PLEASE PLAY RESPONSIBLY.
FOR PROBLEM GAMBLING SUPPORT, PLEASE CALL: 1-866-531-2600
Lottery license #11866
MLSE Foundation
50 Bay Street, Suite 500
Toronto, ON M5J 2L2