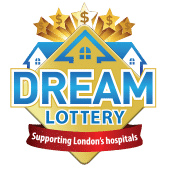 LONDON, ON, April 20, 2018 — So, here's exciting news! The Dream Lottery is back and featuring a Street of Dreams with side-by-side Dream Homes in London, ON and Bringing THE COTTAGE BACK to Bayfield, ON!
Dream Lottery has the most affordable tickets to win your choice between 1 of 3 luxury homes or $1 Million Cash … tickets start at just 2/$50!
Order tickets online, at participating Shoppers Drug Mart locations,
or by phone 1-866-802-4117.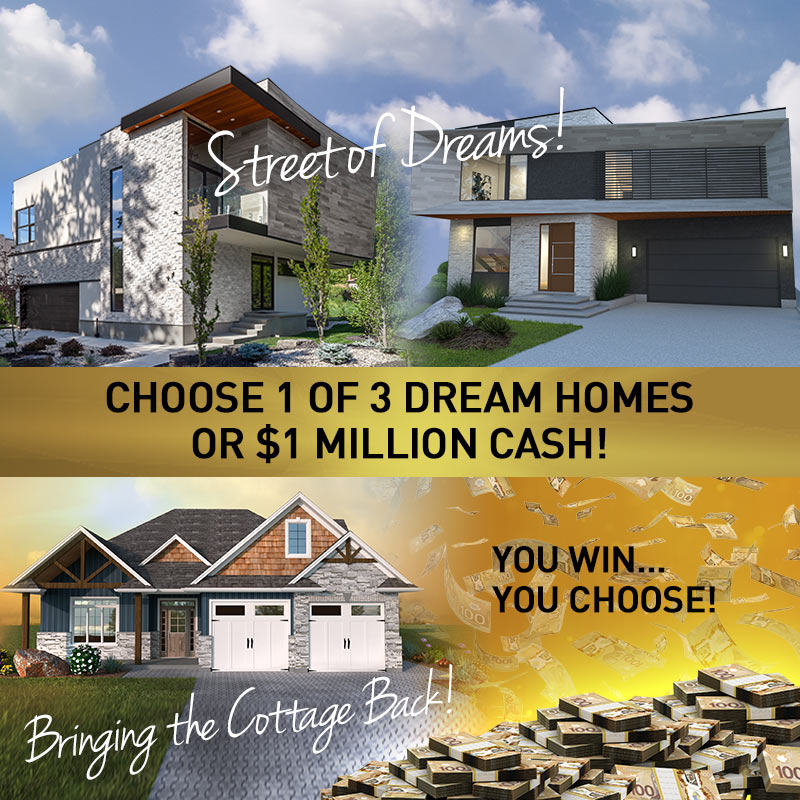 At 1456 Byron Baseline Road, London, our "Gallery Home" boasts a clean quiet design foundation that allows the finest furnishings, fittings and artwork to become the focal points in the home – much like pieces in a fine gallery. Let's not forget to mention the luxurious master bedroom with a lay-down shower, a landscaped backyard with an inground pool, a putting green and so much more!
Then next door at 1452, the "Gold Standard Home" is a luxurious, modern design starting with unique marble, cantilever exterior walls and a heated driveway and garage. Inside showcases a mix of high-end finishes, fixtures and appliances and includes an open concept kitchen with custom cabinetry, a movie room, an oversized master suite and so much more!
If you're ready for that cottage, there's a third choice – a Muskoka Cottage-like Zero Energy Ready Home close to the lake on 22 Delevan Street in Bayfield. Its easy access, one-floor-with-loft layout is a truly inspired and thoughtful design that is relaxing at its finest, including a large stone fireplace for cozying up on those cooler evenings. Plus, this home comes with $300,000 cash!
If those three choices aren't enough, a $1 million in cash for the fourth Grand Prize option can bring anyone's dream to life.
Visit the Dream Lottery website to see all the prizes!
The LOYALTY DRAW has you covered whether you prefer a staycation, vacation or cash! If you want to be guaranteed a chance at winning this prize option, as well as 1 of 3 Dream Homes or $1 Million Cash and all the other prizes, make sure to order your tickets before the first ticket sale deadline on MIDNIGHT, MAY 10!
But there's more like the VIP DRAW, that's offering a group vacation! That's right, the VIP draw wants you and your friends to WIN BIG in Las Vegas or you can make some room in your wallet with an option to WIN CASH EVERY DAY FOR A YEAR or just take cash upfront! Spend…Save…Share, the possibilities are endless!
Plus, more! How about our BONUS DRAW, ever wonder about Island hopping French Polynesian style with a trip to Tahiti's islands … experience a trip people Dream about! Or maybe your dreaming cash? You Win, You Choose!
Now imagine that feeling when the stars all lineup and lights and sounds fill the room! Well, we want you to feel it for real! The EARLY BIRD DRAW is awarding 92 Winners Dream Cash … so many winners, so much cash!
With over 12,000 prizes waiting to be won, you'll want to get in early for your chance to WIN MORE!
For more chances of winning, the popular 50/50 is back, giving you the chance to get in on LONDON'S BIGGEST 50/50 JACKPOT! Tickets starting at just 2/$15!

PLUS, NEW this year, we have more ways to WIN with our DOLLARS & DESTINATIONS CALENDAR! It's your chance to WIN every day in the month of August! Tickets starting at just 5/$20!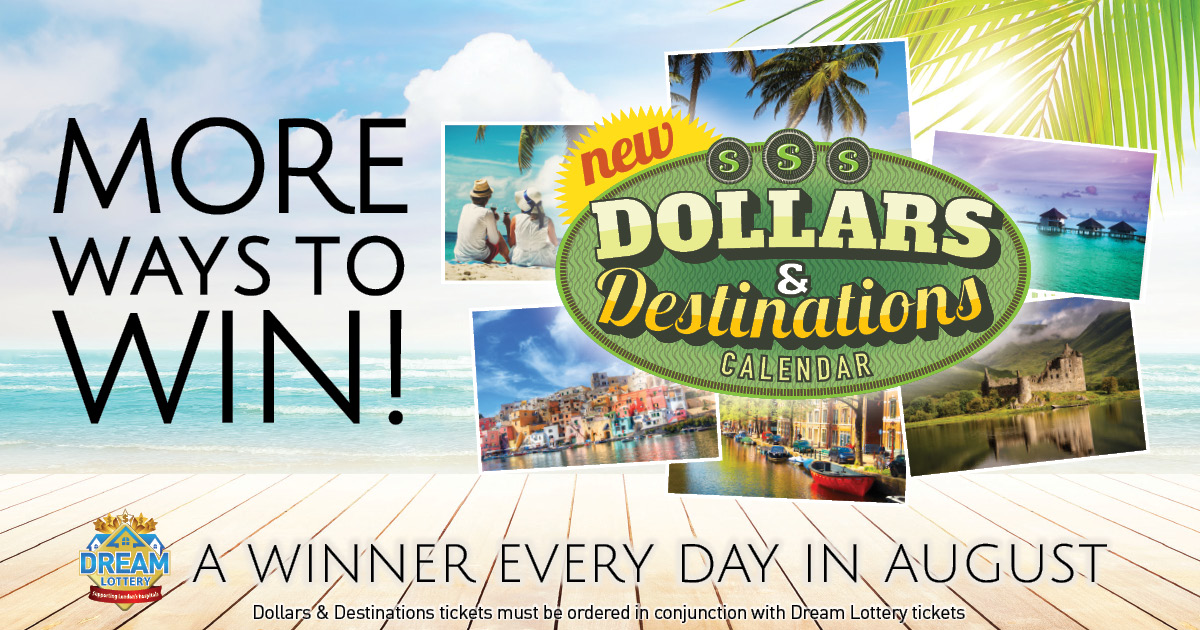 So much to WIN, including vacations, vehicles, cash, and more! For a full list of prizes, information on how to order tickets, and more details about the lottery visit the Dream Lottery website.
Remember every ticket is a life-changer when you support Children's Health Foundation, St. Joseph's Health Care London, and London Health Sciences Foundation by ordering tickets for the Dream Lottery.
It's a WIN … WIN! To see how Dream Lottery helps these hospitals make a difference, read about our three featured patients online.
Order tickets online, at participating Shoppers Drug Mart locations,
or by phone 1-866-802-4117.
Dream Lottery Licence 9637 | 50/50 Licence 9638 | Calendar Licence 9840