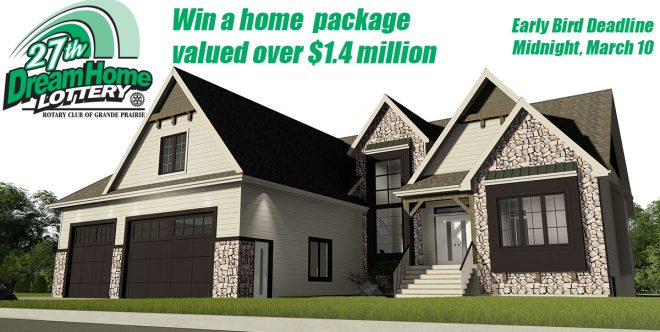 Grande Prairie, Alberta, March 10, 2020 — The 27th annual Rotary Club of Grande Prairie Dream Home Lottery includes a home package worth over $1.4 million. There are Early Bird prizes as well, including the midnight, March 10 deadline of $25,000 tax free cash towards a new vehicle at any Revolution Auto Group dealer.
Dream Home tickets are limited and start at $100. Take a virtual tour of the home at winadreamhome.ca.
Remember the Cash Jackpot 50-50 ™ tickets – already over a quarter million dollars. And the Cash Cow Calendar means a chance to win up to $10,000 every week day in May. Tickets start at $40.
The Rotary Club of Grande Prairie's Dream Home Lottery puts the funds to use in the community, impacting seniors groups, youth, the local hospital foundation, sporting activities, and much more.
To purchase your tickets visit: winadreamhome.ca or call toll free at 1-855-230-8887.
You can't dream without a ticket. Midnight, March 10 is the Early Bird Deadline.
Licence #: 548390 (DH) & 548391 (CJ 50-50) & 548393 (Cash Cow Calendar)