CAMPBELL RIVER, BC, April 12, 2017 — Ask any new or expectant mom about having an ultrasound and chances are they will tell you how amazing it was to see their child growing and changing in utero. But for some moms, an ultrasound can also be life changing for both themselves and their unborn baby, especially if an issue is detected with either the mother or the baby.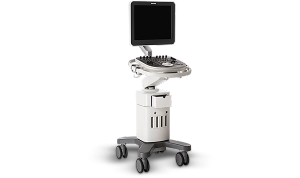 For the Campbell River Hospital Foundation, being able to play a part in the safe care received by patients in the Maternity Department in the Campbell River Hospital is very important. This year, supporters of the Campbell River Hospital Foundation Because You Care Lottery will be helping to raise funds for a brand new ultrasound machine for this department, a piece of equipment that costs approximately $50,000.
"It is very exciting to be getting a brand new ultrasound machine to use on the Labour and Delivery ward in the new hospital. Ultrasound scans are vital to the safe care of Mom and babe during pregnancy," states Dr. Kristen Duckitt, a Physician in Obstetrics and Gynecology at Campbell River Hospital. "While most pregnant women's ultrasounds are undertaken in the Imaging department, it is vital to have access to a good quality ultrasound machine to help us tell which way up baby is, exactly how baby is positioned, look at twins and where the placenta is. Sometimes we need ultrasound to look for a heartbeat. Depending on experience more sophisticated ultrasounds may be performed."
When you buy a ticket not only will you help fund the purchase of this brand new piece of equipment, you'll also be eligible to win the Grand Prize – a $10,000 Travel Voucher from The Travel Place that comes complete with an additional $10,000 spending cash! You'll also earn a chance to win two other prizes – 1) round trip airfare for two from Vancouver, BC to Cabo San Lucas in beautiful sunny Mexico for seven night all-inclusive stay at the Royal Decameron Los Cabos (travel insurance not included) and 2)  a round trip for two to any scheduled WestJet destination. Please see the official lottery Rules & Regulations 2017 for prize details and restrictions.
Tickets for this year's lottery are only $40 each or 3 for $100 and can be purchased online or at Shoppers Drug Mart – Tyee Plaza and Timberline Village, Quality Foods – Merecroft Village, The Travel Place, and the Campbell River Hospital Foundation. Ticket sales end (Shoppers Drug Mart, Quality Foods, and The Travel Place – Campbell River locations) on Monday, May 29th at 5 pm and at the Campbell River Hospital Foundation and online, Wednesday, May 30 at 5 pm.
For complete details about this year's Campbell River Hospital Foundation Because You Care Lottery please visit the official lottery website.