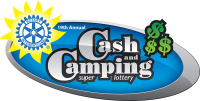 Grande Prairie, AB, May 24, 2022 — You only have 7 days left to get your tickets for the Second Early Bird Draw of $5,000 Cash! Deadline is May 30th.
Tickets are $50 each, 3 for $100, 10 for $200, or our best value – 25 for $250
Buy Your Tickets Today – cashandcamping.com

Your ticket will also enter you to win the third Early bird prize of a private fishing charter for 4 in Sooke, BC as well as the Bonus cash prize of $5,000. Let's not forget that you can also win the amazing Grande Prize – a 2022 GMC Sierra 1500 Limited with truck camping package PLUS a 2022 Coyote 180 Predator Jet Boat valued at $199,683! A total of over $458,000 in prizes to be won including RV's, ATV's, boats, vehicles, trips and more!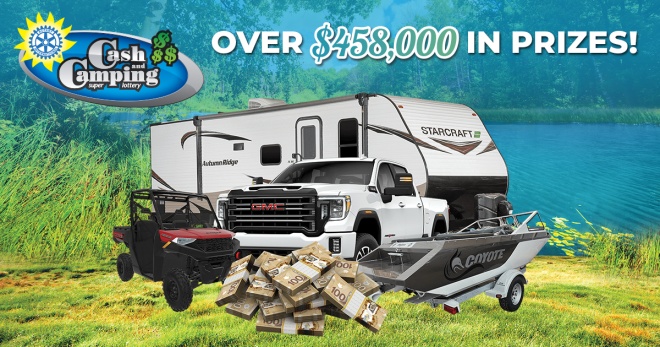 You can view the new and exciting prize line up here.
10 Days of Summer Lottery is back! 2 New prizes are given away every day for 10 days! Plus, don't forget your Summer Cash 50/50 Tickets – winner takes home half the jackpot up to $250,000 CASH! Tickets are $10 each, 3 for $25, 10 for $50, or our best value 25 for $75, prices listed are per lottery.
For over 23 years we have been raising money for many local non-profit groups in the Peace Country area. We are proud to announce that this year's proceeds will support 11 non-profit groups and help to provide resources and assistance to seniors, means to less fortunate families with children, supports to emergency workers, help grow mental health initiatives and more. These non-profit groups and their programs are very important to the community.
Camp Tamarack
Canadian Mental Health Association ANWR 1995
Grande Prairie Gymnastics & Cheerleading
Hythe Athletic Association
Regional EMS Foundation
Rotaract Club of Grande Prairie
Rotary Club of Grande Prairie, After Five
Rotary Club of Grande Prairie, Sunrise
Seniors Outreach
Swan City Rotary Club
Troyanda Society of Ukrainian Culture & Heritage
To learn more about them please visit here.
Licence Main #592645 / Summer Cash 50/50 #592644 / 10 Days of Summer #592643