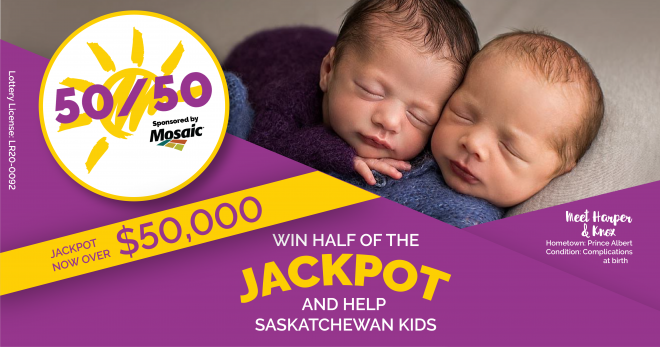 SASKATCHEWAN, May 11, 2021 — In its first week, the jackpot hasn't stopped climbing for the Jim Pattison Children's Hospital Foundation 50/50!
Don't miss your chance to win BIG! Grab your tickets now. Your ticket purchase helps our kids in Saskatchewan get the best care possible. Draw date is June 16!
TICKETS 1 for $20 | 5 for $50 | 20 for $100 | 100 for $250

---
Purchase your tickets now for a chance to win half of the jackpot and help kids who spend time in hospital, just like Morgan.
In January, Morgan from Prince Albert stopped to help a stranger who was stuck in the ditch and was then hit by a passing vehicle. The 17-year-old was then airlifted to Saskatoon to the Pediatric Intensive Care Unit (PICU) at Jim Pattison Children's Hospital, the only one of its kind in Saskatchewan.
Morgan's injuries were extensive, including six broken ribs, a shattered shoulder with multiple fractures, damage to his pancreas, a laceration to his kidney, his spleen had to be removed, and he required dozens of stitches to his head.
After two weeks of care in the PICU, Morgan was able to return home to continue his recovery journey. The mobility of his arm and shoulder has been greatly restricted but he's regained some movement while currently undergoing physiotherapy.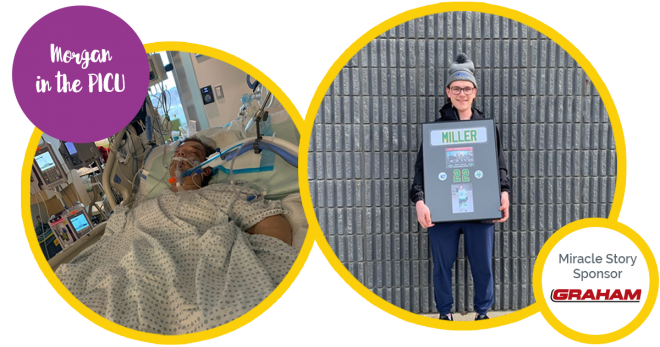 The draw will be June 16 at 4 p.m. at Jim Pattison Children's Hospital Foundation 1 – 345 Third Avenue S. Saskatoon, Sask. The winner will be notified by email or phone with instructions on claiming the prize.
See rules of play details here. For phone inquiries, call 1-888-808-5437.
TICKETS 1 for $ 20 | 5 for $ 50 | 20 for $ 100 | 100 for $ 250
1,000,000 tickets available to a maximum jackpot of $3,625,000.00
Lottery Licence #: LR20-0092