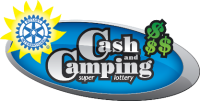 Grande Prairie, AB, June 15, 2021 — You only have 5 days left to get your tickets to be entered for the last Cash and Camping Early Bird Prize. The Fore by Four Banff Golf Package is valued at over $10,000. Enjoy 4 night's accommodations at the Fairmont Banff Springs plus 3 days of breakfast and golf for you and 3 guests! Deadline is June 20th.
Tickets are only 1 for $50, 3 for $100, or our best value – 10 for $200

Your ticket purchase also qualifies you for winner's choice of 2 Amazing Grand Prize Packages – a 2020 Jayco Melbourne 24L Motorhome with Tracker Pro Guide V-16 WT Boat OR a Snipe Lake Resort lot with 2021 Jay Flight Bungalow 40Loft Park Model and Tracker Pro Guide V-16 WT Boat plus $5,000 CASH – and so much more. A total of over $467,000 worth of prizes available to be won!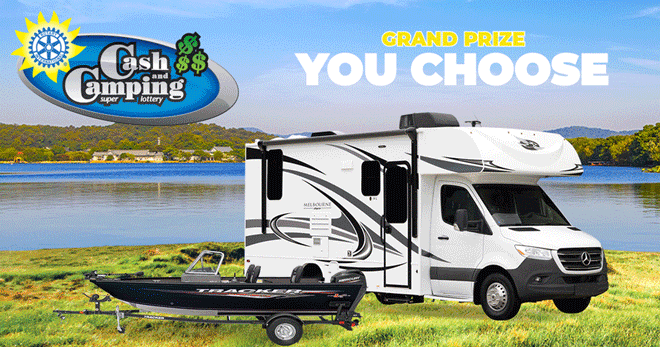 Father's Day is this Sunday, June 20th – Cash and Camping tickets make a great gift. Try our gifting option and have tickets emailed directly to your special someone on the day of your choosing! Gift your tickets here
You can view our new and exciting Prize Line up here.
10 Days of Summer Lottery is back! 2 New prizes given away every day for 10 days! And don't forget your Summer Cash 50/50 Tickets – winner takes home half of the ever-growing jackpot! Check out the current jackpot now.
For 22 years we have been raising money for many local non-profit groups in Grande Prairie. We are very proud to announce the 2021 Cash and Camping Super Lottery's Partner Groups that will benefit from your generous support!
Bezanson Agricultural Society
Grande Prairie & District Catholic Schools Education Foundation
Grande Prairie Gymnastics
Grande Prairie Public School District Education Foundation
Regional EMS Foundation
Rotary Club After Five
Seniors Outreach/Meals on Wheels
Sunrise Rotary Club
Swan City Rotary Club
Troyanda Society of Ukrainian Culture & Heritage
These 10 non-profit groups are very important to us.
To learn more about them please visit here.
Licence Main #572441 / Summer Cash 50/50 #572442 / 10 Days of Summer #572443