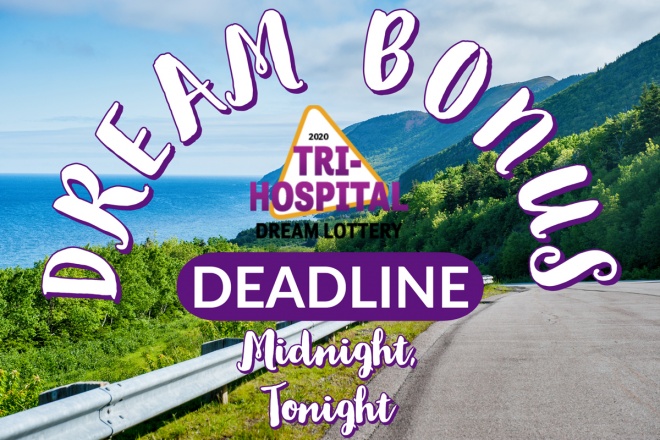 WINNIPEG, MB, Thursday, July 9, 2020 — Beat the Deadline: Get your Tri-Hospital Dream Lottery tickets by Midnight, Tonight (July 9, 2020) – and get in to win the $67,000 Dream Bonus Draw. But, you have to hurry… because time and tickets are running out!
Win and choose your dream car – a 2020 Mercedes-Benz GLC300 SUV – or a Truck + Travel Trailer package – a 2020 Toyota Tacoma and 2020 Jayco Jayflight. Or, take $55,000 CASH and buy your own bonus!
It's the biggest Bonus Draw of the summer, and that's not all you'll be in to win: your tickets will get you in the Early Bird Draws, to win $252,000 in prizes, plus the Grand Prize Draw, to win 1 of 7 incredible choices, including Dream Homes in Winnipeg's Bridgwater Trails and Sage Creek, Vancouver Island, a condo in the Heart of Winnipeg at 390 on the River, or a Dream Cottage on Falcon Lake. Win your very own summer paradise in one of Manitoba's premier cottage communities! Over 3,000 prizes to win – worth over $2.5 million.
ALMOST 80% SOLD
50/50 jackpot approaching $1 MILLION

The 50/50 PLUS is off to a record-breaking pace – and so are this year's ticket sales. The jackpot is getting bigger and bigger every day…
And don't forget to play the Daily Cash Calendar, as well – 120 extra winners, 30 days of winning, and $136,000 in prizes to win.
---
HOW TO ORDER
Order online at trihospitaldream.com / By phone at (204) 254-9131 or toll-free at 1 (844) 654-4677 / Tickets are available in-person at London Drugs at St Vital Centre and select Shoppers Drug Mart locations. Tickets cost 1 for $100 / 2 for $175 / 4 for $300 / 8 for $500.
50/50 PLUS tickets are 2 for $20 / 8 for $40 / 30 for $60)
Daily Cash Calendar tickets are 2 for $20 / 5 for $40 / 10 for $60)
50/50 PLUS and Daily Cash Calendar tickets can only be purchased in a 2020 Tri-Hospital Dream Lottery main ticket has been purchased.
---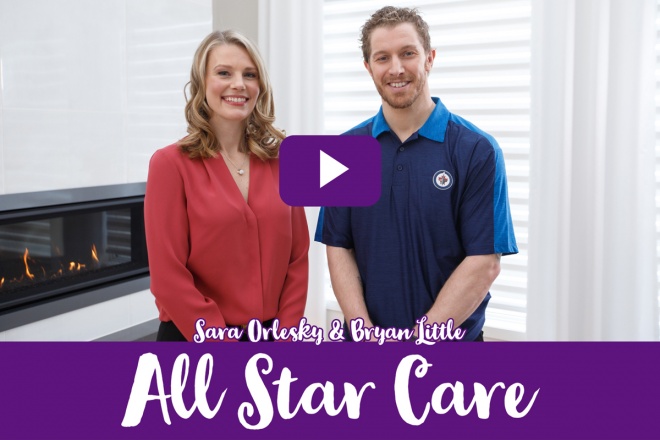 We all depend on our hospitals – your family, your friends, your loved ones, and even your Winnipeg Jets.

"The care from top-to-bottom was unbelievable," says Jets forward Bryan Little, who required "attention immediately" from the health care teams at St. Boniface Hospital and Health Sciences Centre Winnipeg in November, 2019. "What stood out was the care from the nurses, as well. Just how friendly they were, and they made me feel comfortable there."

When you get your Tri-Hospital Dream Lottery tickets, you're supporting life-changing – and often life-saving – care at Manitoba's three cornerstone hospitals: St. Boniface Hospital, Health Sciences Centre Winnipeg, and HSC Winnipeg-Children's Hospital.
On behalf of all of our hospitals and the 1 million patients who visit our hospitals every year, thank you for your support. This year more than ever, your ticket purchases change a life.
---
Order online or by phone, click on this website for ways to order and more info: TriHospitalDream.com
Or order in-person at these locations: London Drugs St. Vital Centre and select
Shoppers Drug Mart locations including the Manitoba Clinic.

License No. LGCA 1517-RF-34337, LGCA 1517-RF-34338, LGCA 1517-RF-34505