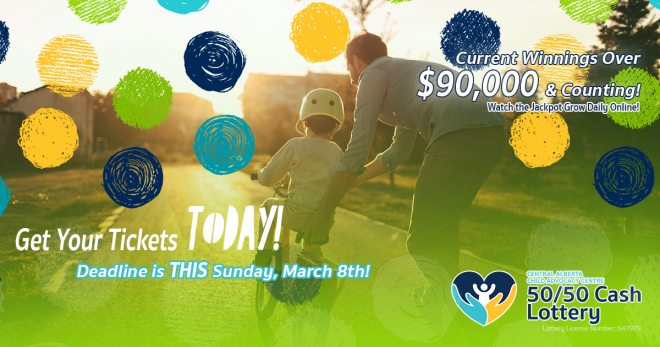 Red Deer, Alberta, March 4th 2020 — The Countdown is ON! Only a few days left to buy your tickets and make a difference in our province – your community.
CACAC 50/50 Ticket Deadline is March 8th @ 11:00pm
Current Jackpot: $184,045 & winner takes home half!
Best Value Package – Completely SOLD OUT!
You can STILL increase your odds with 10 for $25, 25 for $50


Why Buy? Your ticket supports the efforts of the Central Alberta Child Advocacy Centre. The CACAC has helped over 884 children from all around Alberta who have been impacted from abuse. Funds raised will support the development and implementation of prevention programs across Central Alberta in a variety of platforms, including social, health and education – a crucial component in ending child abuse.

Increase your odds with 10 for $25, 25 for $50 and 50 for $75!
Learn more & buy your tickets online at cacac5050.ca or call 587-272-2233
Phone lines are open from 8:00am – 4:00pm weekdays; voicemails can be left and will be answered as soon as possible.
About CACAC

The CACAC is dedicated to nobly protecting the innocent and vulnerable – our children. Their Centre is comprised of a collective that is driven by the courage to support children, youth and their families affected by abuse, enabling them to build enduring strength and overcome adversity. It takes courage to come together as a community to bring child abuse to the forefront, giving a voice to a difficult use that is often silenced.
As of February 28 2019, the CACAC has supported over 884 children, from 76 communities across Central Alberta. Two-thirds of these children have experienced previous abuse, and almost one-half have concerns such as mental health, substance abuse, suicidal ideation or attempts, and aggression.
To learn more about the CACAC and to order tickets, please visit: cacac5050.ca
Follow them on Facebook, Instagram and Twitter
Deadline: March 8th @ 11pm, draw March 17th @ 11am
Lottery License Number: 547979