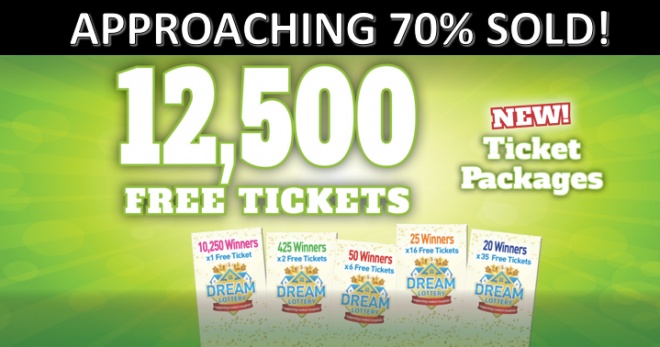 LONDON, ON, April 16, 2021 — Dream Lottery is just one week in and not only is it already APPROACHING 70% SOLD but the Free Ticket Deadline is just a WEEK AWAY! Time and tickets are flying by, and if you wait, you may miss out!
Order your Dream Lottery tickets before the deadline April 22nd to be in for ALL Draws, giving you more chances to WIN! It all starts with 12,500 FREE TICKETS! NEW this year, it's not just Single Tickets being awarded, but Multi-Ticket Packages too! Imagine winning 1, 2, 6, 16 or even 35 TICKETS?
Don't forget, the Making a Difference Calendar! Featuring a year's worth of your needs with 3 Months of Winning … you don't want to miss out!
PLUS, there are even more ways to WIN! Get in on London's Biggest 50/50 Jackpot …last winner took home over $633,000!
Don't wait because Dream Lottery has a history of selling-out early and is on track to do so again! Tickets start at just 2 for $50 (that's only $25 a ticket) and that ticket could make you a Millionaire!
Order tickets NOW online for Dream Lottery
or by phone at 1-866-802-4117.

Every Ticket Changes A Life!
DLRAF1203812 | 50/50RAF1203811 | CLRAF1203813