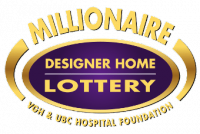 VANCOUVER, BC, October 30, 2017 — The Millionaire Lottery sure lives up to its name; with seven Grand Prize options including $2.7 million cash, winners will be rich with cash and rewards… over $4.3 million in prizes to win in the main lottery alone! Best of all, all the money raised stays right here in BC!
Order your tickets online, or call 604-602-5848 or toll-free 1-888-445-5825.
Just take a look at these seven incredible prize options for the Grand prize winner. The Elgin Estates package, worth over $3.3 million, includes a house fit for a royal family. A gym, recreation and media rooms, library, gourmet kitchen, 6 giant bedrooms, and much more awaits the winner in this 6,146 square foot home, which is move-in ready with over $140,000 in luxury furnishings and appliances and $20,000 cash to do with as you please!
The Ocean Park package where you'll be just a hop, skip, and a jump away from the ocean! Worth over $3 million, this package includes an elegant craftsman style home with plenty of room to breathe with its large ceiling great room, four bedrooms and bathrooms, relaxing master bedroom, and recreation room that's ready to entertain. Plus, this package comes with $500,000 cash, over $100,000 in furnishings, a 2018 Tesla Model X, a 2018 Jaguar F-Type Convertible, AND a 2018 Coachmen Prism Elite Mercedes Benz Sprinter 3500 Motor Home. Talk about sweet bonuses!
Option #3 is a contemporary three bedroom condo in Richmond, close to Vancouver but far enough away to revel in living in this landmark community. The prize comes with a new 2018 BMW x4 xDrive 28i AND a 2018 BMW 230i Cabriolet xDrive PLUS a whopping $1.725 million to spend on what you may! Worth over $3 million in total!
Option #4 is the best of both worlds – a two bedroom condo in downtown Vancouver near beautiful False Creek, AND a loft condo in Squamish. Plus the package comes with over $30,000 in furnishings for the Squamish condo, a 2017 BMW i3, a 2018 BMW X5 xDrive 35i, AND $350,000 cash. This package is worth over $2.9 million.
Option #5 is a slice of lakeview paradise in Kelowna, that could be your new summer playground. This three bedroom home offers you 3,811 square feet to make a lifetime of memories in, especially since you'll be steps from Okanagan Lake. Say hello to water sports, sandy beaches, and plenty of local wine! Including the $75,000 furniture credit and the Land Rover Discovery Diesel, this package is worth over $3 million.
Option #6 is a beautiful SookePoint ocean cottage that invites you to enjoy the magnificence of the ocean every day, or you could even rent it out for some extra income! The prize comes with a 2018 Audi SQ5 SUV, a 2018 Audi RS 7, PLUS $1.75 MILLION CASH.
Option #7 is a ticket to the multi-millionaire club, with $2.7 million tax free cash in your pocket!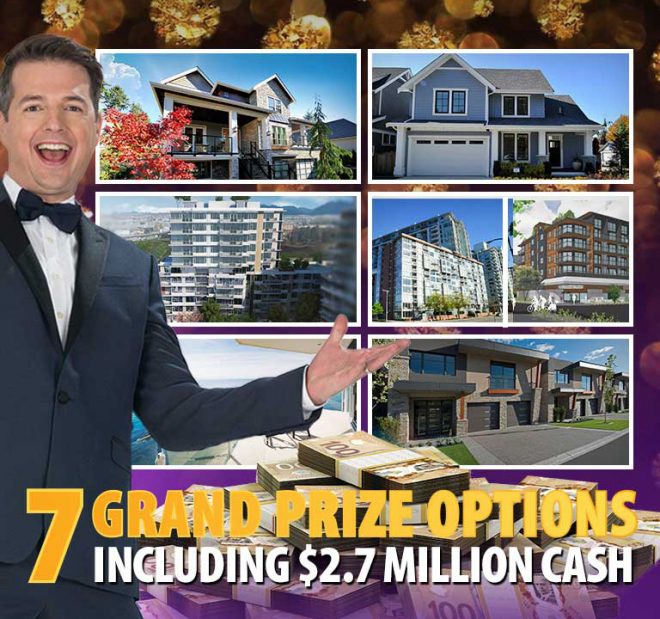 The first deadline is for the Loyalty Bonus prize. The winner will have a choice between a 2018 Honda HRV-LX 4WD, OR a $25,000 vacation/travel gift card + $5,000 Cash, OR $25,000 cash. The deadline to enter is November 10, 2017. Winner will choose one prize option; other prize options will not be awarded.
The 50/50 jackpot was a whopping $1,645,560 last year and can climb to an astounding $2,200,000 this year! Winner takes half. The Daily Cash Plus promises 62 winners that will be drawn from February 6 to April 8, 2018 and will walk away with $3,000 cash. On April 9, 2018, one Ultimate Daily Cash winner will receive $50,000 cash.