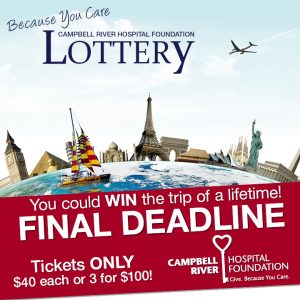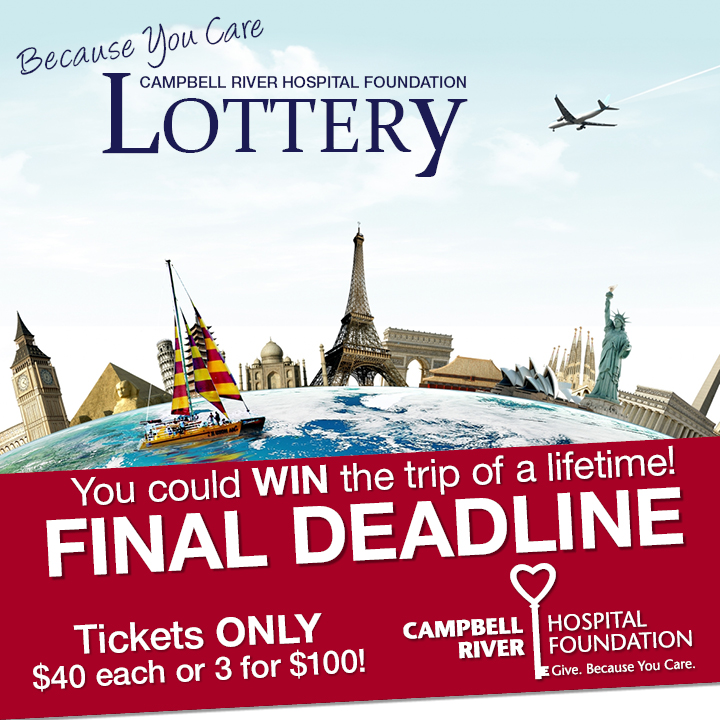 CAMPBELL RIVER, BC, May 29, 2017 — Can you believe May is almost over? What better way to kick off the summer than by finding out you have won $10,000 in Travel Vouchers from the Travel Place, PLUS $10,000 cash to spend however you please! Well, this could be your reality if you are the Grand Prize winner in the Campbell River Hospital Foundation Because You Care Lottery!
Or maybe you'll snag the second prize, which is a seven-night trip for two to sunny Mexico! You'll receive the all-inclusive treatment at the Royal Decameron Los Cabos, with roundtrip airfare covered (travel insurance not included)! You can almost hear the ocean just thinking about it!
Even the third prize winner will be packing their bags, once they choose where they want to go! This prize offers the freedom of following your travel bug, as it is roundtrip airfare for two to the scheduled WestJet destination of your choice. So, will it be New York for a weekend, Montreal for a week, or the Caribbean for… well, you maybe just not want to come back!
This is one flight you won't want to miss, so hurry and grab your tickets before sales end TODAY!
Tickets are only $40 each or 3 for $100
The cut-off is 5 PM on Monday, May 29th for sales at Shoppers Drug Mart (Tyee Plaza and Timberline Village), Quality Foods (Merecroft Village), and The Travel Place – Campbell River
The cut-off is 5 PM on Wednesday, May 30th for sales online and at the Campbell River Hospital Foundation
Lottery proceeds will fund the purchase of a new ultrasound machine (which costs approximately $50,000) for the Campbell River Hospital's Maternity Department.
For complete details about this year's Campbell River Hospital Foundation Because You Care Lottery please visit the official lottery website.