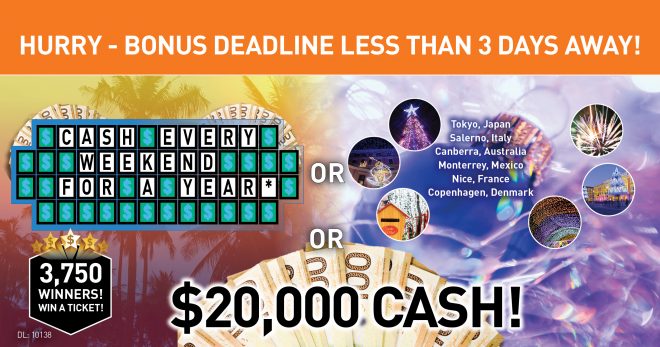 LONDON, ON, November 13, 2018 — Dream Lottery's Bonus Deadline is fast approaching! By ordering early … you have more chances to WIN!
WIN cash every weekend for a year OR a $26,000 Robert Q Travel Certificate OR $20,000 CASH!
That's right… 1 winner will WIN $500 a Weekend for a YEAR*! OR light up their life with a $26,000 Robert Q Travel Certificate OR choose to walk away with $20,000 CASH instead!
PLUS, there are 3,750 single free tickets to be won … imagine winning on a free ticket…last Fall's Millionaire Winners did just that and YOU COULD TOO!
PLUS, when you ORDER EARLY, you have more chances of WINNING! So much to Win … Bonus, Early Bird and ALL final draws of vehicles, vacations, cash and so much more – including 1 of 2 Luxurious Dream Homes or $1,000,000 Cash!
Don't miss your chance to WIN BIG and WIN SUPPORTING PATIENT CARE!

EVERY TICKET
CHANGES A LIFE
Every ticket is a life-changer when you support London Health Sciences Foundation, Children's Health Foundation, and St. Joseph's Health Care London by purchasing tickets for the Dream Lottery.

Visit the Dream Lottery's website to order tickets,
participating Shoppers Drug Mart locations, or by phone 1-866-802-4117.

*to be paid out monthly for a total of $26,000
Dream Lottery Licence 10138 | 50/50 Licence 10139 | Calendar Licence 10140