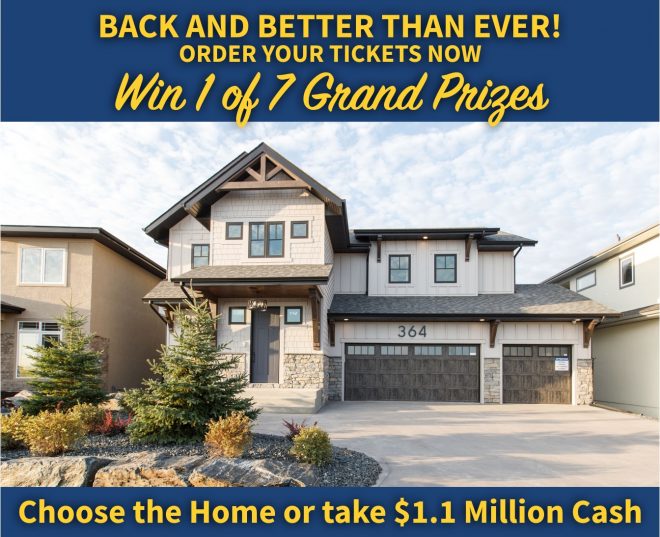 WINNIPEG, MB, January 18, 2019 — It's time to get really excited for 2019… St. Boniface Hospital's Mega Million Choices Lottery is back with 7 Grand Prize Choices!
Tickets are now on sale and all funds raised go to support and pay for vital life-saving initiatives and programs at St. Boniface Hospital.
"The lottery is a tremendous opportunity to have the entire community support St. Boniface Hospital and Research Center," said Vince Barletta, President & CEO of St. Boniface Hospital Foundation. "St. Boniface and its leading edge patient care will be there for your family when you need it the most."
There's more of everything this year! There are over 3,700 prizes to win – worth over $2.3 million, plus the extra 50/50 PLUS – which would grow to $2,000,000 – and 70 Big Score PLUS winners. Buy early, win more with the Loyalty Bonus Draw, Ultimate Bonus Draw, and 101 Early Bird Draws and $225,000 in Early Bird prizes. This year's Grand Prize winner will have their choice between 7 amazing homes – and each package comes with tons of cash – up to $400,000, or just take home $1.1 million cash! Just imagine what winning could do for you and your family…
And once again, the 2019 Mega Million Choices Lottery has a CASH OPTION for every single prize!
Which Grand Prize will you choose?
Win Foxridge's luxurious new home in Bridgwater Trails, or your choice of a Hearth Homes bungalow in Taylor Farm (Headingley) or Sage Creek (Winnipeg), or a Signature Homes family side-by-side – live in one, rent out the other and have 'Income for Life'.
Or choose a gorgeous home in West Kelowna or a condo in Osoyoos – plus it comes with a Signature Homes side-by-side in Winnipeg.
Or take the cash – it's everyone's favorite prize! Become a millionaire instantly with $1.1 Million Cash, and design your own Grand Prize with your new riches.
"To me, this is really the most exciting program we've ever had," said Barletta. "7 Grand Prize choices, including beautiful dream homes here, in and around Winnipeg. And of course, with cars, boats, and other toys. If none of those suits your fancy, you can always take $1.1 million cash.
"There's something for everybody in this year's Mega Million Choices Lottery."
Buy Early, Win More!
Order today and get in the very first Bonus Draw of 2019 – the $31,000 Loyalty Bonus Draw! Win a 21-Day Mediterranean Cruise and 'Best of Europe' trip through Italy, Spain, and Croatia. Beat winter and head somewhere warm, romantic, and sunny! Or choose a brand-new 2019 Chevrolet Equinox, or choose $25,000 Cash.
You can win any of those prizes… all you have to do is get your tickets before Midnight, February 1st. So if you're going to order… well, you might as well order now!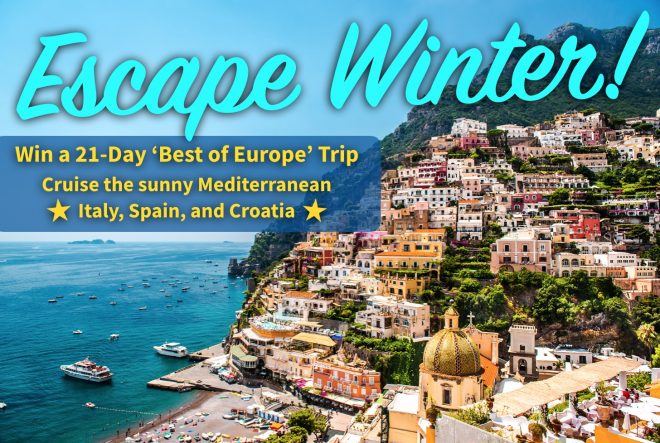 Lottery proceeds are instrumental in funding the areas of greatest need, and all lottery proceeds directly help the hospital's Cardiac Care, Palliative Care, and NICU.
"It's absolutely critical," said Barletta. "There's no family in Manitoba that hasn't been touched by the patient care here at St. Boniface, and the money raised is critical to ensure that patient care at the hospital stays world class."
Say Yes to St. Boniface Hospital
Manitoba, we need your help. Your purchase of a Mega Million Choices Lottery ticket helps save lives at St. Boniface Hospital.
With your help, the Hospital is able to provide the highest quality of care during the toughest of times. When you say yes to St. B, you are investing in promoting women's heart health research. When you say yes to St. B, you are helping Hospital patients from labour and delivery, to palliative care. When you say yes to St. B, you are helping purchase the latest technology and high-quality medical equipment. And, when you say yes to St. B, you are improving mental health programs and care.
Your ticket purchases matter. You make the difference at St. Boniface Hospital.
Tickets are 1 for $100, 2 for $175, 4 for $300, and 8 for $500. 50/50 PLUS and Big Score PLUS tickets start at 2 for $20.

Get your tickets online at StBMegaMillionChoicees.ca
by Phone at 204-256-7203
or 1-855-256-7203
or in-person at St. Boniface Hospital Everett Atrium
& St. Boniface Hospital Foundation Office,
or at London Drugs in St. Vital Centre,
Red River Co-op Food Store and Main St. Pharmacy,
and select Shoppers Drug Mart locations
Licence No: LGCA 1517-RF-30408, LGCA 1517-RF-30407, LGCA 1517-RF-30335