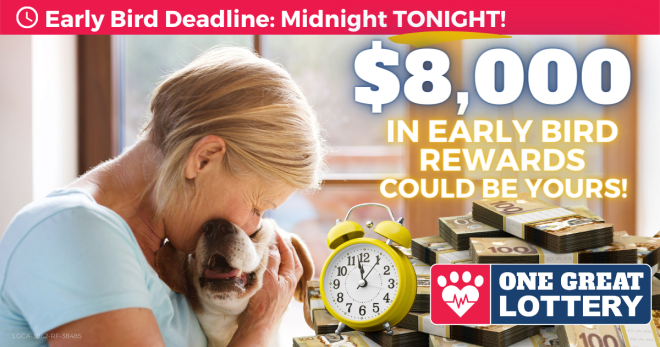 Winnipeg, MB, October 6, 2022 — You could be $3,000 richer tomorrow! Order One Great Lottery tickets before midnight TONIGHT and get in on all remaining draws PLUS the Grand Prizes!
For as little as $25 you will have 10 chances to win the remaining $8,000 in Early Rewards AND not 1 but 3 GRAND PRIZES. You could be cashing in, driving away, or setting sail this Fall as a Grand Prize WINNER!
Grand Prize #1: The ever-growing 50/50 Jackpot! (Winner takes half!)
Grand Prize #2: 2023 Range Rover Evoque (or $60,000 cash!)
Grand Prize #3: $25,000 Travel Gift Certificate (or $20,000 cash!)
Every ticket supports compassionate care at Misericordia Health Centre and Winnipeg Humane Society.
GET IN TO WIN BEFORE MIDNIGHT TONIGHT!
ORDER NOW online at www.onegreatlottery.ca

Buy Tickets. Change Lives.
LGCA-3962-RF-38485 – LGCA-3962-RF-38487