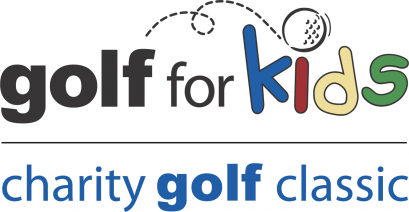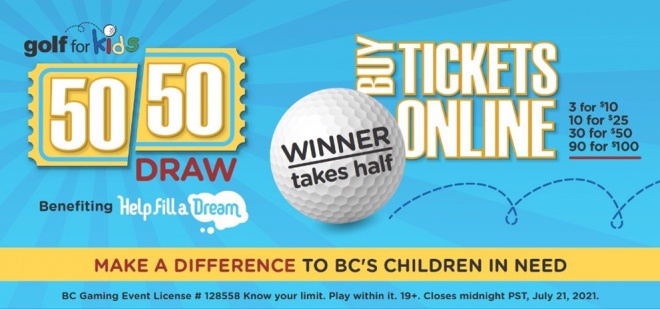 VICTORIA, BC, June 16, 2021 – Over the past two decades Golf for Kids and its feature charity Help Fill A Dream, have built an incredible partnership recognizing that every day kids have the opportunity to dream, but it's not every day that those dreams are fulfilled. Together we can make sure their dreams do come true! ONE WINNER will take home THOUSANDS on July 21st. Tickets are on sale now!
Get your tickets in the 50/50 For The Kids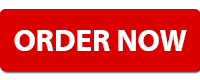 3-Ticket Pack for $10; 10-Ticket Pack for $25; 30-Ticket Pack for $50; 90-Ticket Pack for $100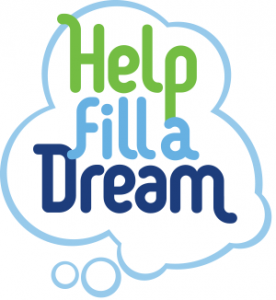 Golf for Kids is here to help fund great organizations that do excellent work in support of kids in our communities. In addition to supporting Help Fill A Dream, money raised at our annual event has contributed to over 100 Charities and Foundations that make a difference in the lives of children across BC.
More than a charity golf tournament, Golf for Kids brings together sponsors, donors, golfers, partners, volunteers, community advocates and devoted youth in support of BC kids and their families. Like so many events – due to the pandemic – we have gone virtual for the second year in a row. But that doesn't mean we can't make it an incredible success!
This year, Help Fill A Dream celebrates its 35th anniversary and the more than 3,400 Vancouver Island children who have received Dreams or assistance over the years. Thanks to community generosity, Help Fill A Dream has never had to say no to a request from a child who qualifies for its support.

By working together we can continue to transform generosity into meaningful impact. Golf for Kids works because of the commitment and passion of everyone involved. And it's more important moving forward this year than ever before.
Ticket sales started Wednesday, June 9, 2021!
50/50 Sales Deadline: Wednesday, July 21, 2021 at midnight
50/50 Draw: Thursday, July 22 at 10 am
BC Gaming Event Licence #128558
Play Responsibly. BC Responsible Gambling. 19+ to play
Tickets may be sold and purchased in British Columbia only. Orders will not be accepted via the Internet from anyone outside the Province of British Columbia or any non-residents of British Columbia. Maximum of 147,997 tickets will be sold. The odds of winning are based on the total number of tickets issued by the time of the draw.
Thank you to all of our over 100 major sponsors!
QUESTIONS?

Contact: [email protected]
Visit Golf For Kids to learn more!