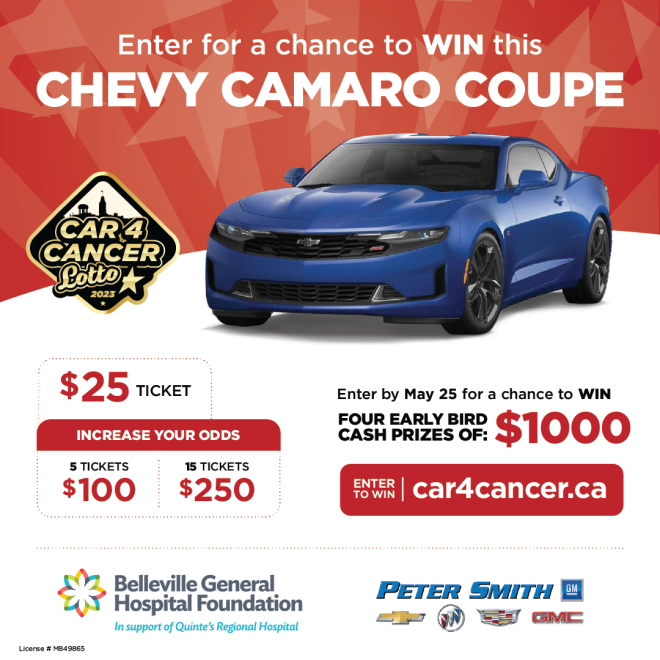 BELLEVILLE, ON, May 24, 2023 — Will you help fight cancer? The Belleville General Hospital Foundation's Car4Cancer lottery is BACK! You have all summer to play for your chance to win a Chevy Camaro 2LT Coupe valued at over $45,000, but the earlier you play, the more chances you have to win early bird CASH! There will be 4 early bird draws for $1000 cash, and the first draw's deadline is TOMORROW at 11:59 pm! 

Fight Cancer. Win A Car.
All proceeds from Car4Cancer Lotto go to the Dr. Douglas A. MacIntosh Cancer Clinic at QHC Belleville General Hospital, giving the Belleville community access to cutting-edge cancer treatment and exceptional care close to home.
$25 for 1 ticket
$100 for 5 tickets
$250 for 15 tickets
Every. Ticket. Counts.
Each ticket allows the QHC Belleville General Hospital team to continue extending, saving and improving the lives of cancer patients from across the region. Your support goes a long way for patients and their families.

1st Early bird deadline is TOMORROW!
Play early to score cash! Buy tickets before 11:59 pm tomorrow to be entered in all four early bird draws for $1000 cash. Even if you win an early bird prize (woohoo!), your ticket will remain in the running for the grand prize draw. It pays to play early!
Together, we can fight cancer. Purchase your tickets today.
Good Luck!

Belleville General Hospital Foundation
265 Dundas Street East
Belleville, ON
K8N 5A9
Lottery license #M849865