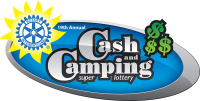 Grande Prairie, AB, May 8, 2023 — Hurry! Only 7 days left to get your tickets for the First Early Bird Draw, a Kananaskis Nordic Spa Package with $1,500 cash! The deadline is May 15. 
Tickets are $50 each, 3 for $100, 10 for $200, or the best value – 25 for $250

Your ticket will also allow you to win 2 additional Early Bird prize packages and the amazing Grande Prize, a 2022 Keystone Avalanche 390DS fifth wheel, a dual suite, two full bath luxury cabin on wheels with a new 2023 F350 XLT Crew Cab. Incredible prizes await, including a 2023 Forest River No Boundaries 16.1 Travel Trailer plus a 2023 Honda Ridgeline Sport valued at $106,138.20! A total of over $484,000 in prizes to be won including Honda Navi Motorcycles, E-Bike, Kayaks, trips and more!!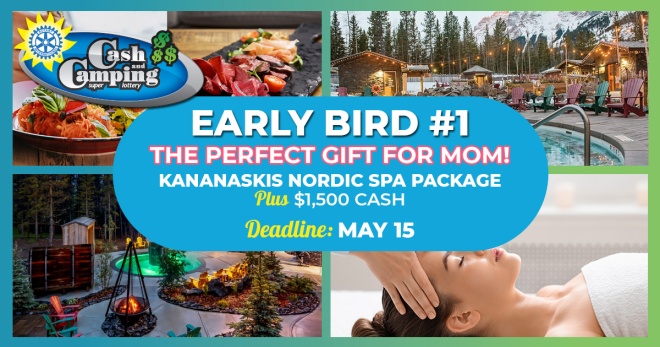 You can view the New and exciting Prize Line up here.
10 Days of Summer Lottery is back to fuel your summer!  2 New prizes are given away every day for 10 days!  Plus, don't forget your Summer Cash 50/50 Tickets – Imagine winning up to $250,000!
Tickets are $10 each, 3 for $25, 10 for $50, or the best value 25 for $75, prices listed are per lottery.
Your ticket purchase makes a big impact!  Your opportunity to win amazing prizes provides an opportunity for others to live a better life. 
For 24 years, The Rotary Clubs of Grande Prairie have been assisting in fundraising efforts raising money for many local non-profit groups in the Peace Country area.  The Rotary Clubs of Grande Prairie are proud to announce that this year's proceeds will support 11 non-profit groups and help to support things like keeping youth active, providing resources, assistance and meals to seniors, supporting arts and culture bringing people together for life's special moments, providing therapy to those with disabilities, and so much more.
To learn more about them please visit here.
Licence Main #630375 / Summer Cash 50/50 #630376 / 10 Days of Summer #630377