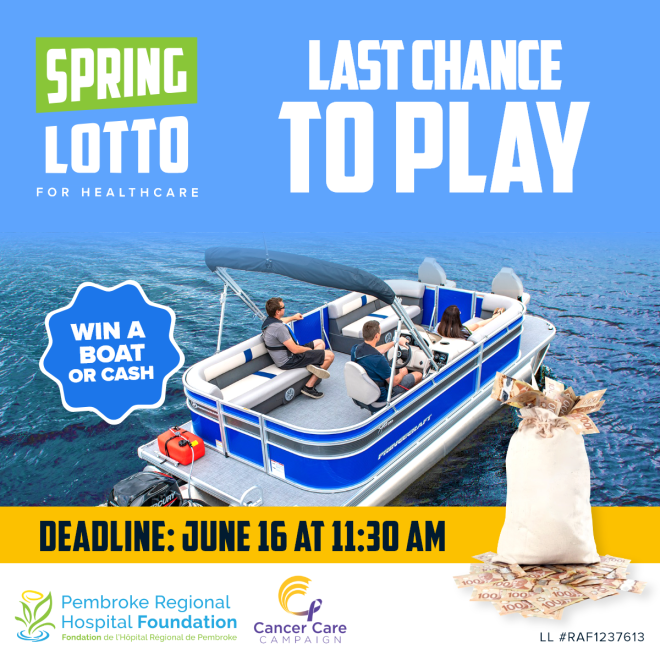 Pembroke, Ontario, Tuesday, June 14, 2022 — Pembroke's Spring Lotto for Healthcare is ending, so don't miss your chance to enter! A $42,000 boat or $35,000 in cash could be yours. Support local cancer care. Get your tickets now before it's too late.


2 DAYS LEFT TO PLAY.
2 PRIZES TO CHOOSE FROM!

Grand Prize Option #1: A Princecraft Pontoon Boat, valued at $42,000
Includes:
Princecraft 2022 Jazz 210-2S Blue
2022 Easy Hauler Trailer
60 Horsepower Mercury Engine
Grand Prize Option #2: $35,000 in Cash
Get your tickets before the grand prize deadline on June 16 at 11:30 a.m. Tickets start as low as $25.


SUPPORT HEALTHCARE CLOSE TO HOME
All proceeds from Spring Lotto will help fund the Pembroke Regional Hospital's chemotherapy and medical day care unit to advance the wellbeing of citizens in the surrounding communities.
What are you waiting for? Get your tickets now and help support your community. Thanks for playing, and good luck!
Pembroke Regional Hospital Foundation
705 Mackay St.
Pembroke, ON
K8A 1G8
Lottery license #RAF1237613