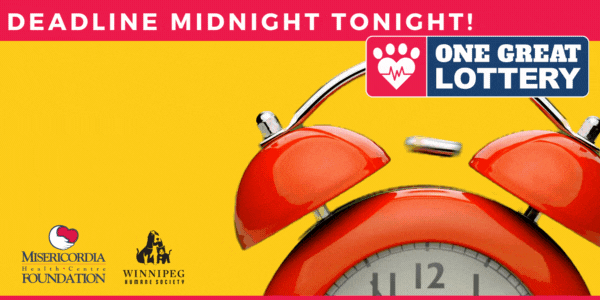 Winnipeg, Manitoba, May 18, 2023 — You could CASH in BIG this Friday but only if you get your tickets before Midnight Tonight.
It's the FINAL Deadline for One Great Lottery and ticket sales close at midnight tonight. The jackpot continues to climb, and tomorrow's winner will take home a 6-figure payday!
Grab tickets online today at www.onegreatlottery.ca, by phone 204-788-8458 OR stop by St. Vital TODAY from 10AM – 1PM. Ace Burpee and Virgin Radio will be live on location with the Winnipeg Humane Society Dog Ambassadors, stop in say hello and grab your tickets before the final deadline!
Get 10 chances to win growing $200,000 jackpot for $25 and feel GREAT knowing that your purchase is supporting animals at the Winnipeg Humane Society and patient care at Misericordia Health Centre. Two incredible organizations that have been community staples for over 100 years!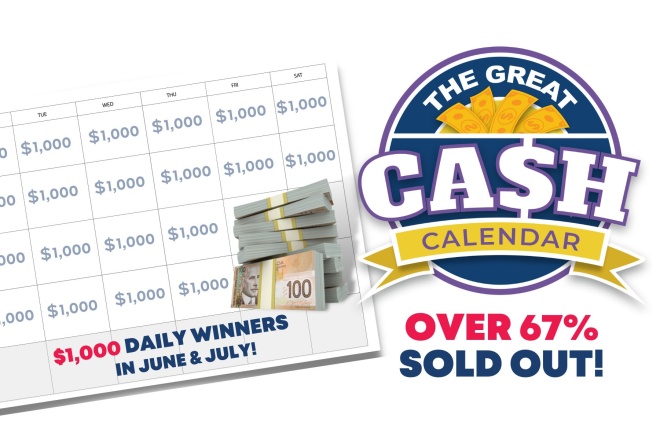 This is the LAST day to get Great Cash Calendar tickets! Get 610 chances to win $1,000 daily in June and July for just $20. Limited tickets remain and you don't want to miss out on this GREAT opportunity!
Ticket Prices:
One Great Lottery Tickets:
10 tickets for $25
25 tickets for $50
100 tickets for $100
Great Cash Calendar Tickets:
10 tickets for $20
30 tickets for $30
80 tickets for $40
Misericordia Health Centre (MHC) and Winnipeg Humane Society (WHS) have provided life-changing services to the community AND to our animals for more than 100 years. Through One Great Lottery their goal is to raise awareness and much-needed funds to support both important missions. All lottery proceeds will be split between MHC and WHS, supporting investments in programs that provide outstanding care to hands and paws alike.
Don't miss out on your chance to win big while making a difference! Purchase tickets today at www.onegreatlottery.ca and follow One Great Lottery on social media for updates and announcements.
ORDER NOW online at www.onegreatlottery.ca 
in-person at Winnipeg Humane Society
(45 Hurst Way, Winnipeg, R3T 0R3)
or by phone at 204-788-8458.

Support Compassionate Care in Your Community.
LGCA 3962-RF-40439 | LGCA 3962-RF-40438