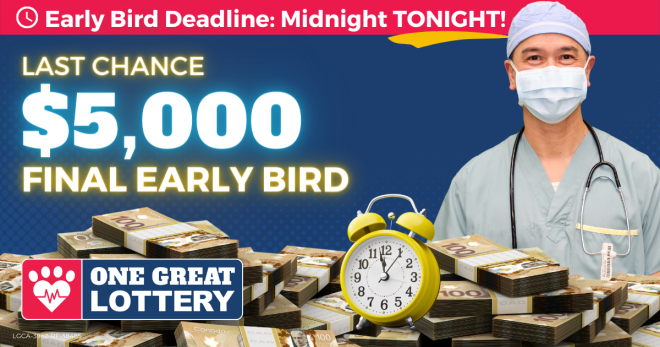 Winnipeg, Manitoba, October 20, 2022 — The clock is ticking down and the LAST Early Bird Deadline is MIDNIGHT Tonight! Cash in and WIN $5,000 tomorrow PLUS you're entered to win one of THREE Grand Prizes!
Cash in BIG this Fall with One Great Lottery! Supporting compassionate care at Misericordia Health Centre and Winnipeg Humane Society, this GREAT lottery is a WIN-WIN!
Check out these amazing Grand Prizes!
Grand Prize #1: The ever-growing 50/50 Jackpot! (Winner takes half!)
Grand Prize #2: 2023 Range Rover Evoque (or $60,000 cash!)
Grand Prize #3: $25,000 Travel Gift Certificate (or $20,000 cash!)
LAST Early Bird Prize before the GRAND PRIZE DRAW on November 1!
ORDER NOW online at www.onegreatlottery.ca
or by phone at 204-788-8458.

Buy Tickets. Change Lives.
LGCA-3962-RF-38485 – LGCA-3962-RF-38487